Yamaha DM7 120-channel Digital Mixer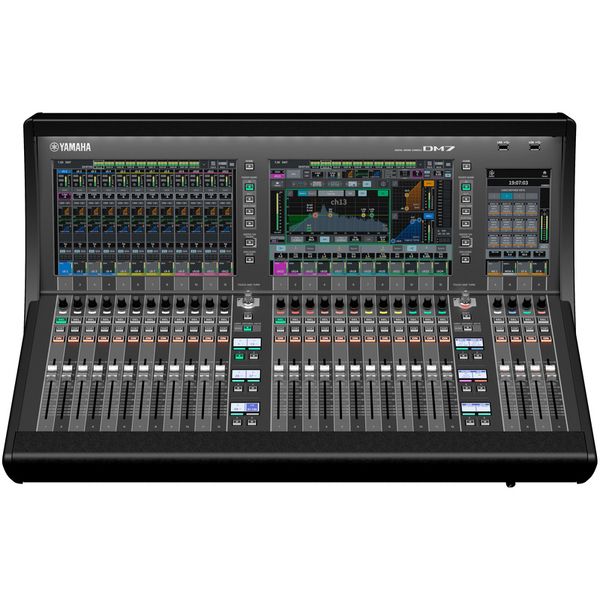 The Yamaha DM7 is a 120-channel digital mixer that builds upon the innovative features and renowned sound quality of Yamaha's Rivage PM series.
It features a dual-bay design with a user-friendly interface that adapts to individual workflows. The mixer is equipped with two 12-inch touchscreens, one 7-inch touchscreen, 28 motorized faders, and touch-and-turn knobs for intuitive navigation.
With a sampling rate of up to 96kHz, the DM7 delivers pristine audio quality supported by 32 exceptional mic preamps and 16 analog outputs. It incorporates Yamaha's legacy of digital effects, offering 64 assignable premium processing slots, 16 assignable Yamaha FX slots, and four assignable inserts per channel. Additionally, the DM7 functions as an 18 x 18 audio interface compatible with Yamaha's VST Rack and a 144 x 144 Dante interface for expanded connectivity.
The console features a modern interface inspired by the Rivage PM series, combining onscreen and physical controls for a digital user experience. It provides enhanced visibility on selected channels, time-based metering, dynamics information, and customizable signal flow and sequential patching options.
The DM7 also includes advanced AI assist functions that adapt to user preferences and workflow, as well as a split mode designed to facilitate mixing for multiple tasks. Other notable features include a DAW remote function, an internal dual power supply, and efficient operation.
The Yamaha DM7 is a feature-rich digital console suitable for live sound, theater, broadcast, or corporate A/V applications. It offers exceptional efficiency, crystal-clear sound quality, and a range of intuitive features designed to enhance the mixing experience.
Here you can find all the most important features of this mixer:
120 Mono inputs
48 Mix busses
12 Matrix busses
2 Stereo busses
Dante Primary / Secondary
Sampling frequency: 48 kHz / 96 kHz
2 12.1″ Multi-Touch screens
7″ Multi-Touch utility screen
28x 100 mm touch-sensitive faders
Local I/O: 32 Mic / Line inputs, 16 outputs
2x AES input
2x AES output
USB 2.0 audio interface: 18 inputs / 18 outputs
Dante interface: 144 inputs / 144 outputs
PY Slot
Dual Power Supply
Split mode
DAW remote mode
Assist function
Dimensions (W x H x D): 793 x 324 x 564 mm
Weight: 23.5 kg
Incl. power cable, dust cover, cable hook, Nuendo Live and VST Rack Elements
My name is Ignazio Di Salvo, well, Iggy for all my friends as my name is difficult to pronounce for non Italian speakers.
I am an Italian Guitarist, Singer, Composer, and Music Educator living in Belgium.  
I am passionate about music production and writing, I publish two articles every new week about music and music production-related topics.