6 best acoustic guitars for beginners (2023)
During my career as a professional guitar instructor, I have had a good number of students who were just starting out, and for some reason, finding a good instrument to start with is always more challenging than we could even imagine.
Finding a good acoustic instrument for a beginner guitarist can be pretty complicated for several reasons. First, there is the budget. Of course, we want to invest the right amount of money to better understand if studying guitar is something that we can commit to long-term or not.
Second, there is the quality of the instrument itself. The most common scenario I see is that guitars, especially acoustic ones, come out of the shop set up poorly: high action, poor intonation, and old, rusty strings. For someone who is just starting their guitar learning journey, this is the opposite of what we could consider encouraging. There is a high chance that the student will feel unworthy or not talented enough and may end up abandoning their studies. Sometimes it's not about their talent per se, but mostly because they have a poor-quality instrument that won't help them in their studies.
I experienced the same thing when I was a kid studying acoustic guitar. I remember the pain of playing on a very difficult-to-play classical guitar.
So, in this article, I have chosen 6 best acoustic guitars for beginners (2023)  to help guitarists simplify their lives and get the most out of their guitar journey.
Whatever type of instrument you are going to buy, remember to set it up correctly before starting to play. This means asking the shop owner to lower the action and adjust the intonation of each string before bringing the guitar home. If you buy online, ask a luthier in your city to set up the guitar for you.
Ibanez AE245-NT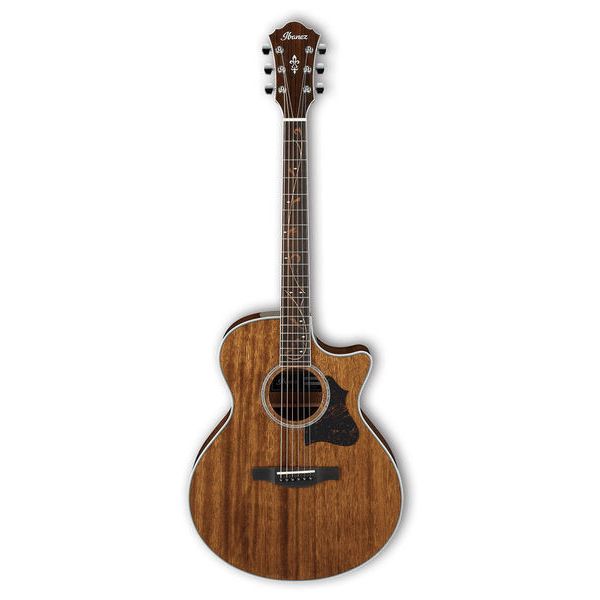 Pro: good sound and playability for its price
Con: maybe lacking of controls in the electronics
The Ibanez AE245-NT is part of the AE series, which is known for its high-quality sound and comfortable playability.
This series of guitars is designed for beginner acoustic guitarists who want to start with a good instrument on a decent budget.
After a close look, the guitar appears to be well-made: well-finished, with a good action, and a balanced sound. Let's take a closer look at the features of this instrument.
The AE245-NT has a grand concert body shape. The X-M Bracing creates a clear bottom and crispy treble sound with a warm mid-range, while providing a wide dynamic range and high response. This makes it a versatile option for players who want a balanced tone and easy playability.
The top, back, and sides of the guitar are made of solid Okoume. This combination of materials produces a warm, rich sound that is well-balanced across the frequency spectrum.
The neck is made of Nyatoh with a Paul Ferro fretboard, and features Abalone and Maple Specially designed Wooden Vine inlay. The guitar also features a cutaway design, which allows easy access to the higher frets.
The hardware and electronics of the AE245-NT include an Ibanez T-bar pickup system and Ibanez Advantage bridge pins. These pins are easier to take out and put in than standard pins, and a special bulb-shaped end makes them easy to grip and prevents them from being pushed in too far. The guitar also comes with a soft case, providing some protection when transporting the instrument.
Overall, the Ibanez AE245-NT is a well-made acoustic-electric guitar that offers excellent sound quality and comfortable playability. It lacks controls for the amplification system, so this could be a limitation if you are using it for more serious purposes, but it offers good quality for its price.
Whether you're a beginner or a seasoned player, this guitar is definitely worth considering.
Yamaha FG800 NT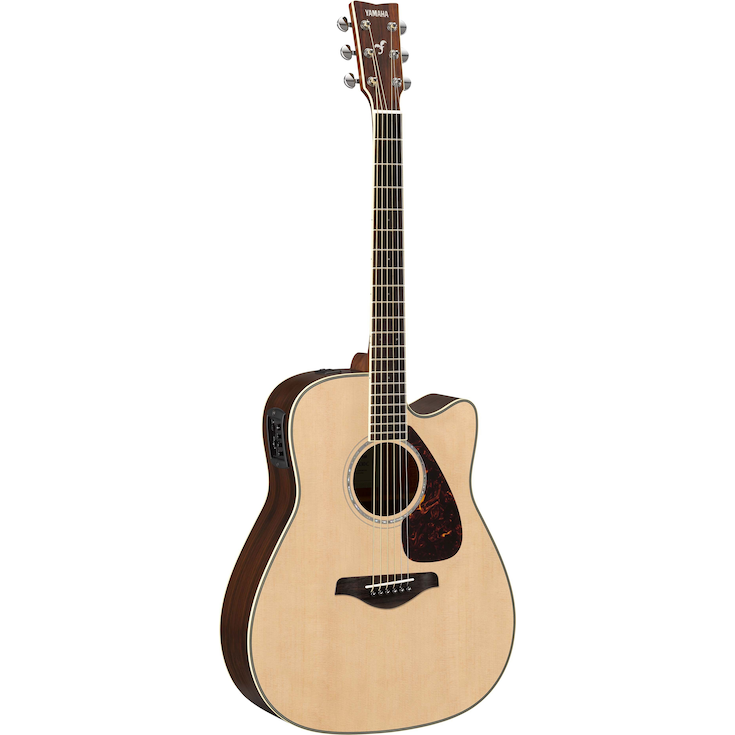 Pro: Very good price for the quality.
Con: No amplification system or case included.
The Yamaha FG800 NT is an acoustic guitar that belongs to Yamaha's FG series. This series is known for providing beginners and intermediate players with a versatile and good-sounding instrument at an affordable price.
This guitar is perfect for guitar students looking to have their first instrument and start guitar lessons right away.
The FG800 NT has a dreadnought body shape, known for its loud, powerful sound and versatile playability.
The top of the guitar is made of solid spruce, while the back and sides are made of nato wood. This combination of materials produces a balanced, full-bodied tone that is ideal for a wide range of musical styles.
The neck is made of nato wood and features a satin finish, giving it a smooth, comfortable feel. The fingerboard is made of walnut and has 20 frets.
The guitar also features a traditional, non-cutaway design, giving it a classic, vintage look. It's perfect for strumming, flat picking, traditional folk, and fingerstyle playing.
Unfortunately, the FG800 NT does not come with any electronics, so it is strictly an acoustic guitar. This means that you will need to use a microphone or an external pickup if you want to amplify the sound. However, if you like how this instrument sounds, there are many other options available if you want to install a microphone directly onboard. While this is a limitation, it can be easily overcome with an extra budget and some work.
The guitar has a rosewood bridge and a set of die-cast chrome tuners, which provide good stability and tuning accuracy. The bridge pins are made of plastic and have a black and white dot pattern.
Other features include a set of Yamaha's own medium gauge acoustic strings, which provide a balanced tone and good playability. Unfortunately, a case is not included.
Overall, the Yamaha FG800 NT is a well-made acoustic guitar that offers excellent sound quality and a comfortable playing experience for the price. While it doesn't come with any electronics, this can actually be an advantage for players who prefer the pure, unamplified sound of an acoustic guitar. If you're looking for a reliable, affordable acoustic guitar that can serve you well for years to come and can be easily carried around, offering good sound and overall good quality, the Yamaha FG800 NT is definitely worth considering.
Takamine GD11MCENS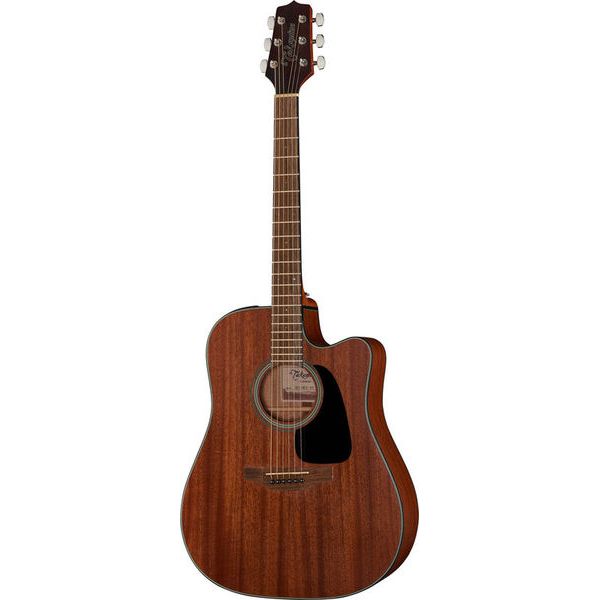 Pro: good sound and overall great look
Con: frets can be better refined in the high positions
The Takamine GD11MCE is an electro-acoustic guitar that belongs to the G series of Takamine guitars. Takamine is a well-known brand for acoustic instruments, and it builds its reputation along the years for making great-sounding guitars, with incredible quality and durability. 
This guitar respects the expectations towards this historical brand, as the GD11MCE model is thought for all guitarists that are starting out and want anyway a quality instrument with no compromises. Takamine absolutely always fill in the expectations.
Let's take a look at its features.
The Takamine GD11MCENS has a dreadnought cutaway body, which is made of mahogany for the back and sides. 
The top is mahogany and thanks to the body shape and size, this guitar produces a rich, full-bodied sound with plenty of volume and projection.
The GD11MCENS has a mahogany neck that features a 20-fret rosewood fingerboard, which is decorated with dot inlays. The neck shape allows comfortable playability and easy access to higher frets. The Ovangkol bridge produces a good sound and overall stability.
The GD11MCENS is equipped with a Takamine TP-4TD preamp system, which includes a built-in tuner, a battery life indicator, gain/volume control, and an equalizer with bass, mid and high controls. The preamp provides a clear and natural amplified sound, making it a great choice for live performances. 
The guitar comes with Daddario 012 strings 
Overall, the Takamine GD11MCENS is a high-quality electro-acoustic guitar that delivers a balanced and warm sound, excellent playability, and a beautiful design. It is a great choice for intermediate to advanced players who are looking for a reliable and versatile guitar that can handle a wide range of musical styles.
Fender FA-345CE Auditorium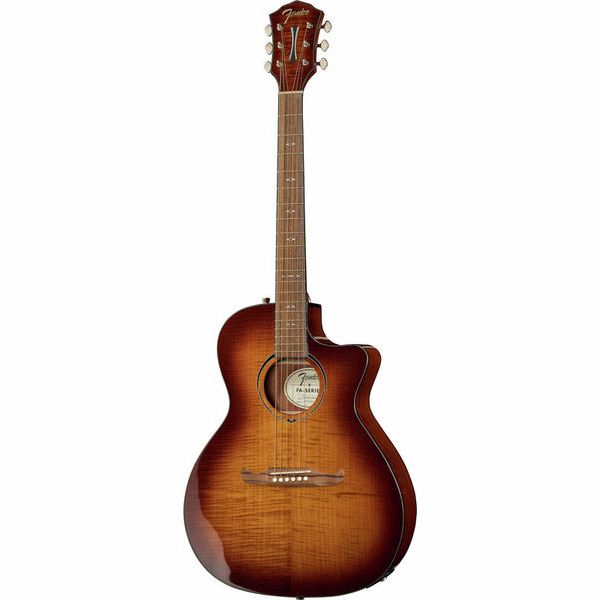 Pro : great quality for the budget
Con: nothing in particular
The Fender FA-345CE is a quality auditorium-style acoustic-electric cutaway that is great for beginners or seasoned players alike. It features a stunning laminate flame maple top and laminate lacewood back and sides with a gloss finish.
The guitar has a mahogany neck that features a 20-fret Indian laurel fingerboard, which is decorated with dot inlays. 
The Nato "C"-shaped neck with Indian laurel fingerboard offers great playability and comfort to every player. 
Electronics: The FA-345CE is equipped with a Fishman CD Preamp system, which includes a built-in tuner, volume, and tone controls.
Overall, the Fender FA-345CE is a good-quality acoustic guitar that delivers a balanced and versatile sound, excellent playability, and a beautiful design.
This Fender has a warm tone and of course this brand never fails in making great instruments.
D'angelico Premier Bowery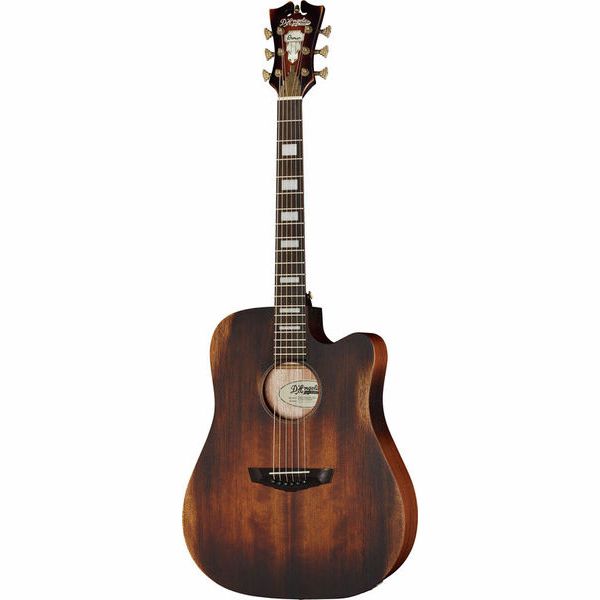 Pro: versatile and affordable
Con: nothing in particular for this price range
The D'Angelico Premier Bowery ANM is an acoustic-electric guitar model that is part of D'Angelico's Premier Series. The body shape is Dreadnought with a single cutaway to facilitate access to high positions. The top is made with solid mahogany, while the back and sides are made with mahogany laminated.
The neck is made of mahogany and has a slim C-shaped profile, making it comfortable for players that prefer a relaxed approach to the instrument. The fretboard is made of ovangkol wood, which is known for its warm and balanced tonal characteristics.
It is a versatile instrument that can be used for a wide range of musical styles, including folk, rock, and blues.
The Premier Bowery LS is equipped with onboard electronics.  The under-saddle pickup and D'Angelico MG-30 preamp capture an accurate picture of the sound of the instrument, and the 3-band EQ and master volume control give total control over the tone while onstage.  There's also a simple tuner and a phase switch for helping to reduce feedback.
Other features of the D'Angelico Premier Bowery ANM include a tortoiseshell pick guard, a D'Angelico headstock with a satin finish, and chrome hardware. The guitar is available in a natural matte finish, which showcases the beautiful wood grain of the mahogany.
D'Angelico is surely a guarantee in therm of sound and quality for acoustic and semiacoustic instruments.
This guitar proofs that great results can be achieved with an affordable budget, and this is surely the instrument for the entry-level student as well as the guitar for the gigging musician that desires a quality built guitar with work purposes, practical and straight to the point. 
Ibanez AW54CE-OPN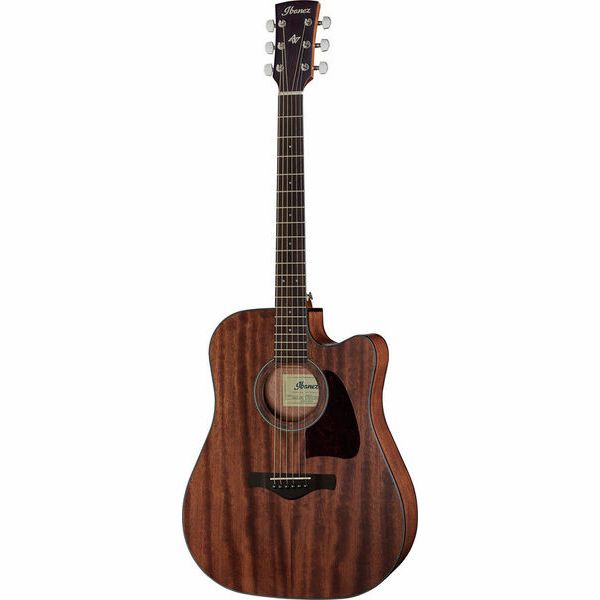 Pro: good quality and affordable
Con: nothing in particular for this price range
The Ibanez Artwood AW54CE acoustic-electric guitar hits all the right notes.
Acoustically, the AW54CE delivers big dreadnought tone that's nicely balanced by the internal X bracing. The solid okume construction gives you a great-looking instrument with a big, balanced sound that's ideal whether you're strumming or fingerpicking.
With a Fishman under-saddle pickup and an Ibanez AEQ-TP2 preamp, you get natural-sounding amplification that's plug-n-play simple.
You even get an onboard tuner. If you came to Sweetwater for a great-sounding, smooth-playing acoustic-electric that's also a phenomenal value.
The magic of Ibanez's Artwood series acoustic guitars comes from their combination of quality tonewoods and fine construction techniques.
To make the Artwood AW54CE acoustic a great-sounding yet affordable guitar, Ibanez began by selecting the best materials for the money and then applied decades upon decades of guitar-crafting experience to them.
When you pick up your AW54CE, you'll be amazed by how fine this affordable acoustic guitar really is.
Fishman makes some of the best acoustic amplification systems around. The Ibanez AW54CE packs Fishman's Sonicore pickup, powered by the Ibanez AEQ-TP2 preamp gives you bass, treble, and volume controls to dial in a great tone fast. Best of all, the built-in tuner makes it easy to keep your instrument sounding its best.
My name is Ignazio Di Salvo, well, Iggy for all my friends as my name is difficult to pronounce for non Italian speakers.
I am an Italian Guitarist, Singer, Composer, and Music Educator living in Belgium.  
I am passionate about music production and writing, I publish two articles every new week about music and music production-related topics.