Rupert Neve Designs 5088 32-channel Analog Mixing Console
The circuit topology of the Rupert Neve Designs 5088 32-channel Analog Mixing Console is like no other.
With its uncompromised signal paths and custom transformers coupling every input and output (even the inserts), the sweet, musical sound and ironclad isolation you expect from a Rupert Neve design are guaranteed.
For optimal signal amplification and control, all-new discrete high-voltage op-amp cards were developed for the 5088 that eliminate crossover distortion while delivering extended dynamic range, frequency response, and headroom. Equipped with Rupert Neve Designs' state-of-the-art SwiftMix automation system, the RND 5088 console is the definitive evolution of Mr. Neve's vast expertise in analog circuitry design.
Legendary lineage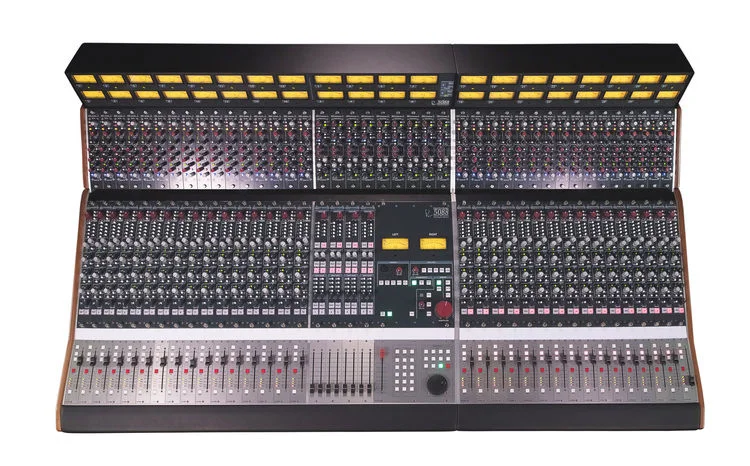 As Rupert Neve's first fully discrete mix console design in over three decades, the 5088 includes — and improves upon — many of the same concepts he pioneered in the 1970s, such as the single-sided, fully discrete amplification and complete transformer isolation that made these designs so universally revered. But unlike many of those iconic, still-coveted classics, the 5088 does not require a full-time maintenance engineer.
Modular architecture
To be successful as a recording studio, stagnation is not an option — you have to continually adapt your equipment to the requirements of your next project.
As the 5088 is completely modular, you can add or remove channel strips and Portico modules such as mic preamps, EQ, and dynamics to meet the constantly changing demands of your business and eliminate the enormous redundancies of vintage consoles — all while delivering sound without compromise, session after session.
The input channel
Beyond its amazing sound quality, the 5088 channel strip is designed to effortlessly handle multiple normalled sources and let you efficiently create master, group, and aux mixes quickly and easily. With eight aux sends, eight groups, Solo, Mute, Send Follows Pan, Aux to Group, a transformer-coupled direct out, and optional motorized fader automation on each channel, even the most complex mixes are in play. To increase your 5088's channel count without having to add an expansion chassis, you also have the option of adding stereo input channels with all of the groups, six aux sends, stereo width control, and individual trims and pans.
The group channel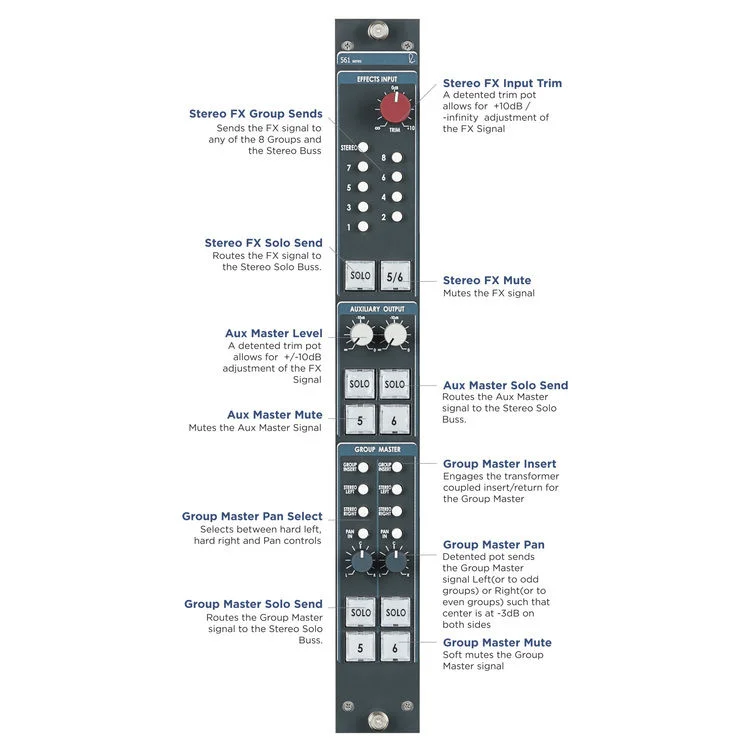 With four pairs of FX returns and aux master controls, high-quality 100mm faders, direct outs and transformer-coupled inserts for each of the eight mix groups, the group master section gives you control over four stereo stems while grouping together a selection of channel strips. If required, the insert returns and stereo FX returns may be used as 16 additional inputs for summing.
The monitor master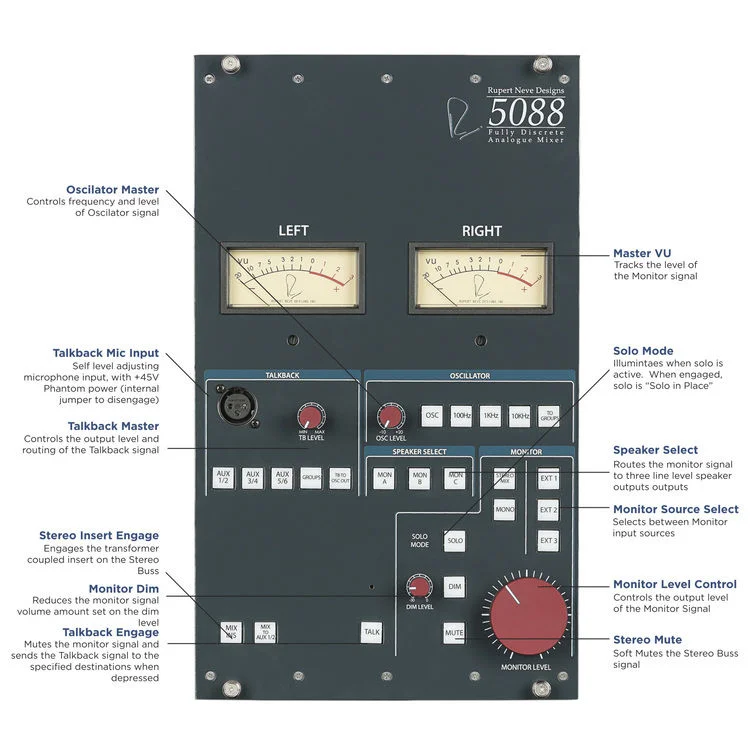 The monitor master section has six source selections, three transformer-coupled speaker outputs, plus talkback, oscillator controls, L/R master VU meters, stereo insert engage, monitor mute and dim switches, dim level, and control room monitor level. As do the channel and group modules, anodized aluminum knobs are fitted to provide the feel and response required for making fine adjustments with confidence.
SwiftMix automation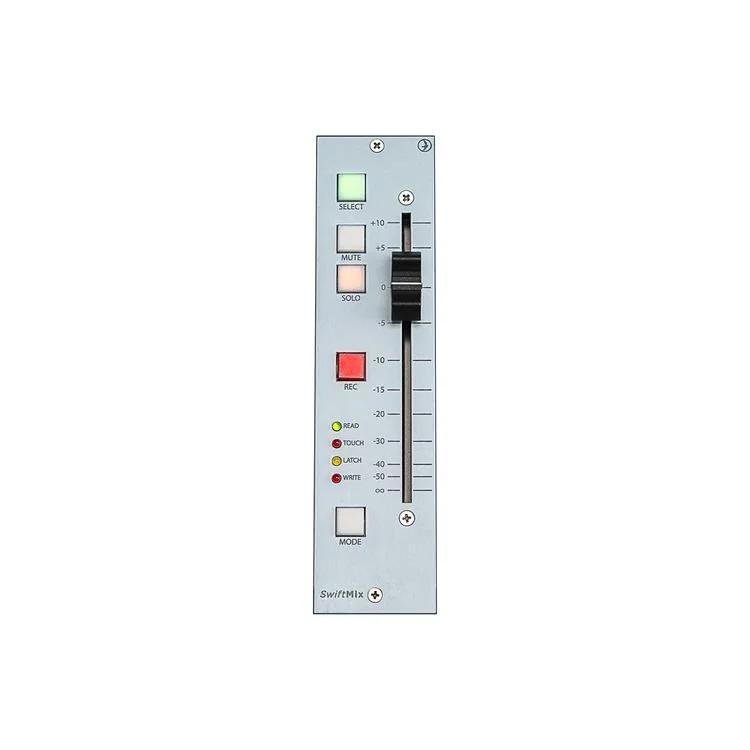 Built around the latest state-of-the-art motorized fader technology and DAW control over Ethernet, Rupert Neve Designs' SwiftMix automation system enhances, streamlines, and accelerates your workflow with the precision and convenience of digital automation. Fortified with SwiftMix automation and the unparalleled analog sound of the Rupert Neve Designs 5088, your studio will be big-league competitive.
The legend continues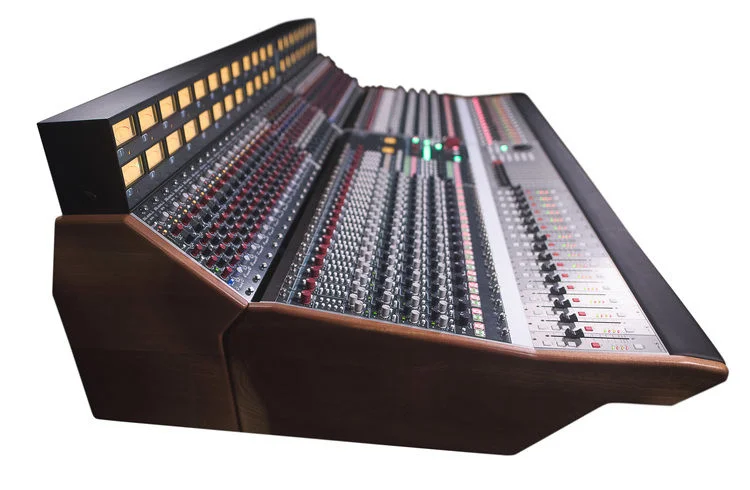 Rupert Neve's 80 Series consoles had a huge, punchy, and authoritative sound that defined the sound of '70s rock. From London to New York to Los Angeles and beyond, top studios were installing Neve boards as fast as they could. By 1977, with the introduction of the NECAM automation system, 80 Series boards were the main component of the success formula for any studio with world-class aspirations.
Mr. Neve's current company, Rupert Neve Designs, continues to advance the state of the art with cutting-edge products that sound incredible and intelligently address the challenges of the digital age. 
Features:
5088 16-channel master with 16-channel expander, Shelford Blue
32-channel SwiftMix automation system
MC5 SwiftMix master controller
25-slot with 16-slot expander penthouse frame
24-channel with 16-channel expander VU meterbridge, Shelford Blue
32 x 5052 Shelford mic pre/inductor EQ modules
Width: 74.7″
Depth: 41.33″
Height: 22.9″
Weight (loaded): 785 lbs.
Exclusive 5-year warranty with Sweetwater
My name is Ignazio Di Salvo, well, Iggy for all my friends as my name is difficult to pronounce for non Italian speakers.
I am an Italian Guitarist, Singer, Composer, and Music Educator living in Belgium.  
I am passionate about music production and writing, I publish two articles every new week about music and music production-related topics.