How to sound like Steve Vai – Gear (2023)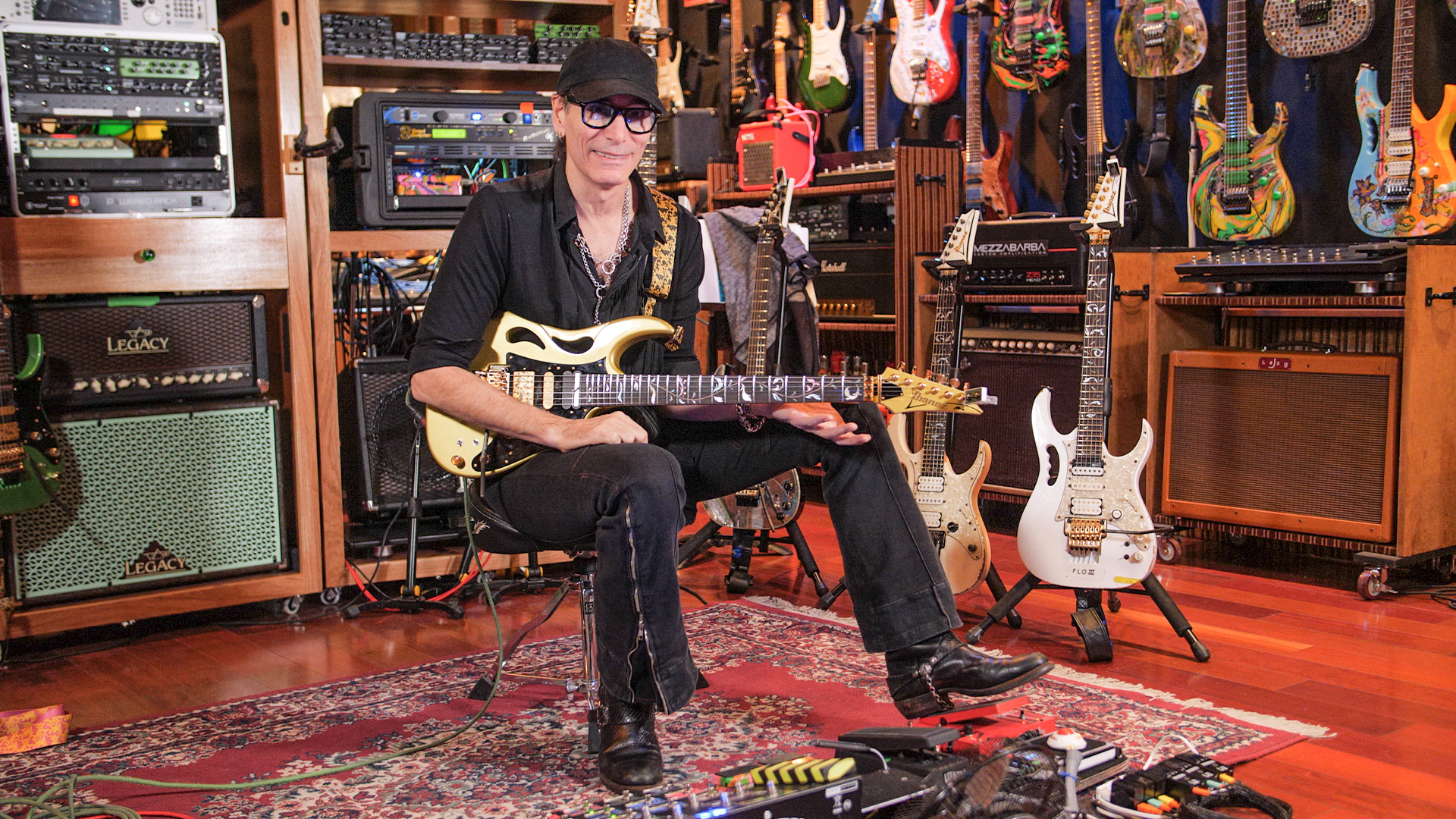 There's no doubt that Steve Vai is one of the most influential guitarists who ever existed in the modern era. 
His influence can be considered as important as guitarists like Hendrix, Eddie Van Halen, and Wes Montgomery. 
Not only did he re-invented a new approach to electric guitar back in late '80 with his unforgettable album "Passion and Welfare" but also he created a unique voice on the instrument that is easily recognizable after only one listen. 
Steve Vai is not only a great guitar player but also a genius composer, able to create incredible soulful ballads like "For the love of God" as well as long and prog suites full of different crazy ideas and colors. 
Steve Vai started his long and incredible career at the court of genius Frank Zappa, then he covered the role of the lead guitarist in David Lee Roth's band and in Whitesnake. Not only that, he also worked as an actor, playing the Devil's guitarist in the movie Crossroads!
There's so much to say about the influence he has had on practically any modern guitarist out there, and I think I could talk about it for hours, as I am a huge fan of all his works.
What is also fascinating about him, is his ability to make the guitar sing, with a unique and peculiar sound.
His playing, his hands, and his ideas are of course an important part of his voice on the guitar, but there's no doubt as well that the gear he uses is crucially important to define his unique sound.
So, what does Steve Vai uses in his gear, and what can we learn from it? Let's see it together!
Disclaimer: the red buttons will bring you directly to the shop, and they are affiliate links. 
This means that if you are going to buy something after clicking, I will receive a small percentage of it. 
It's a way to sustain my blog activity. Nothing will change for you, and in any case, you will be safe. 
Steve Vai's Guitars

Steve Vai, together with Ibanez, developed a new futuristic guitar in the late '80: The Ibanez JEM. 
It was a huge step forward for the time being, as it was conceived as a super strat guitar, but with many modern features that made it avant-garde for more than 35 years ago.
Ibanez produced the first models for Vai and especially one named EVO became the favorite number one for Steve, with which he played in many records and tons of gigs.
The peculiar aspect of this guitar is the strat body with the easily recognizable 'Monkey Grip' handle hole on the top. The guitar has got a deep cutaway to favorite access to high notes, and the last frets are scalloped, so he can control bendings better on that part of the neck. 
The guitar also features Floyd-rose tremolo and Di Marzio Pickups. 
The JEM is an iconic model and probably one of the best guitars ever made. It sounds fantastic and is also very easy to play, perfect for shredding and any other modern music style connected with Rock. 
The JEM model also opened the road to the Ibanez RGs, which have been the most-sold Ibanez guitars all around the globe.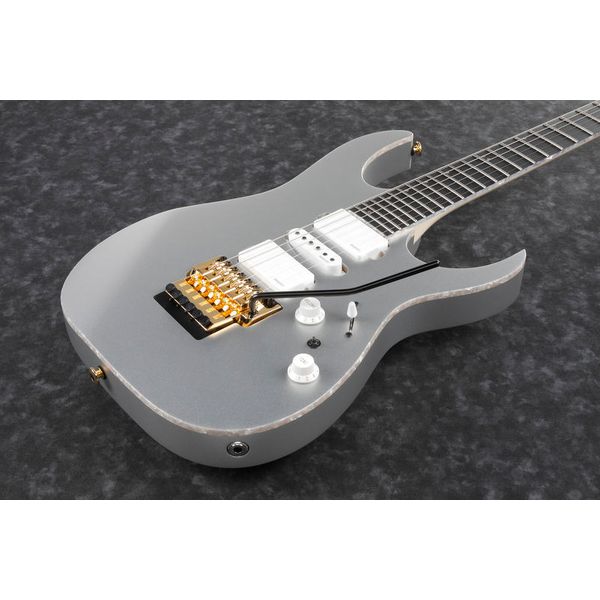 Steve Vai also contributed to developing the first line of Ibanez 7 Strings guitars, which were very futuristic for the '90 and that opened the road to all the nu-metal wave. Bands like Korn, Limp Bizkit but also Dream Theater used the 7 strings for the first time in their records, and Ibanez Developed the Universe model, which has been an inspiration to all the 7 strings guitar models of the next decades.
In 2021, Steve and Ibanez produced the PIA model, a refreshed and modernized version of the classic Steve Vai Signature guitar: super strat with a slim neck, DiMarzio UtoPIA pickups, Edge Tremolo, and the iconic three of life inlays on the fretboard.
The PIA is a great guitar for all modern shredders out there, harmonically rich, powerful but at the same time easy to play and comfortable during live gigs.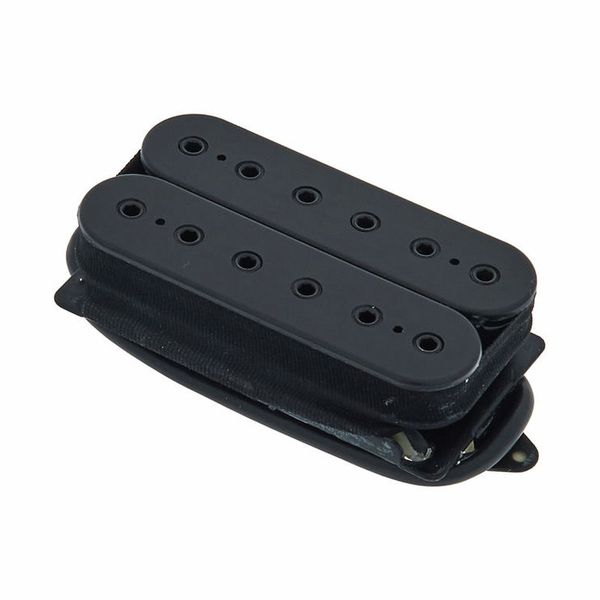 DiMarzio's Evolution bridge and neck pickups are designed for maximum impact and power. They have been designed on Steve's demand for powerfull pickups, rich of harmonics and loud tones. At the same time, they had to be dynamic in order to get along with all Steve's playing nuances. They allow him to express all the single details of his playing without losing character. 
The neck pickup is fat, punchy, and loud. The bridge pickup is tight, aggressive, and louder.
Both pickups have DiMarzio's patented dual-resonance configuration to reproduce more harmonic overtones than conventional humbuckers.
Evolution pickups are not polite-sounding, and they're not for the inexperienced, but – if you've got the chops and a hot amp – they are perfect for both distorted and clean sounds.
Evolution pickups were originally designed with live gigs in mind, but they have so much presence and definition that they're great for recording pickups, too, slicing right through even the densest mix.
Steve Vai's Amps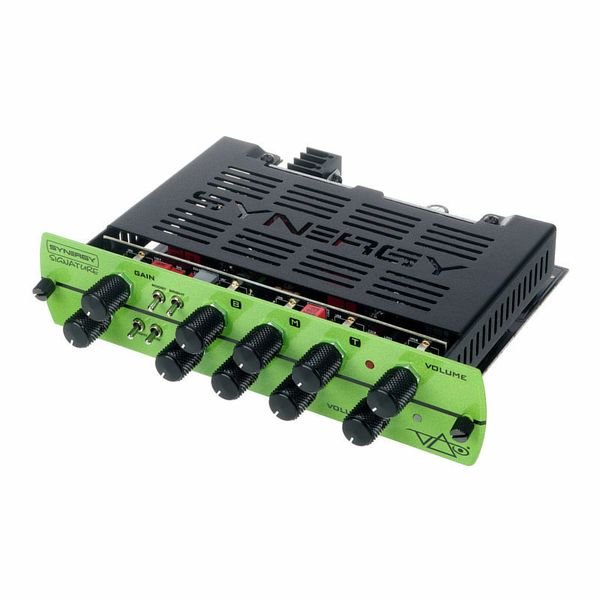 Steve Vai has been using many different amps along the years.
The most famous one has been using is probably the Bogner Ecstasy, used mainly during the records of the '90.
The Ecstasy is probably one of the best tube amps ever existed, and it served its purposes greatly both live and especially in the studio.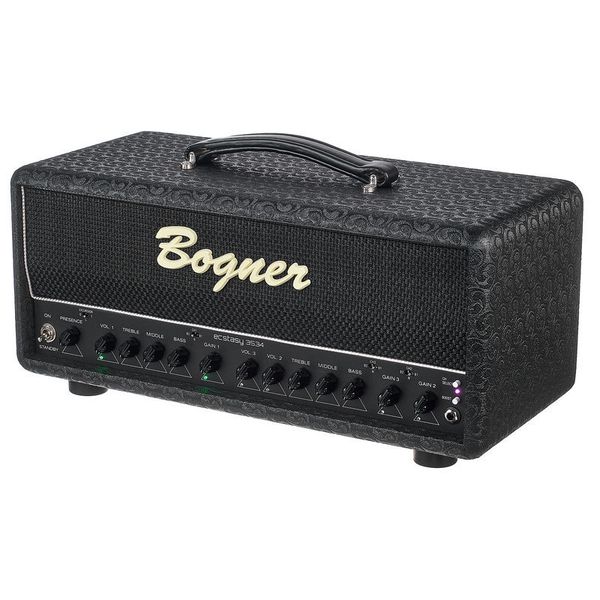 Starting from 1999, Steve Vai has been using mostly the Carvin Legacy Amps, which are currently out of production, due to the failure of the company.
Carvin Legacy Amps are currently impossible to find in the music stores but could be found in the used market. 
They define more than anything else the typical Vai's sound, as they have been structured and tailored entirely on Vai's exigences and they reproduce perfectly the tones and the nuances of his playing. 
Recently, Steve Vai started to use the Synergy amp, an ambitious project.
The company built a series of amplifiers that can be changed in the course, thanks to several modules that can be integrated and changed in order to obtain different sounds.
It's a revolutionary philosophy that looks to the future, and of course, Vai has got attentive eyes upon original and revolutionary ideas. 
An example of these amps is the Synergy SYN-50 Head, which can be integrated with the special Steve Vai's signature preamp: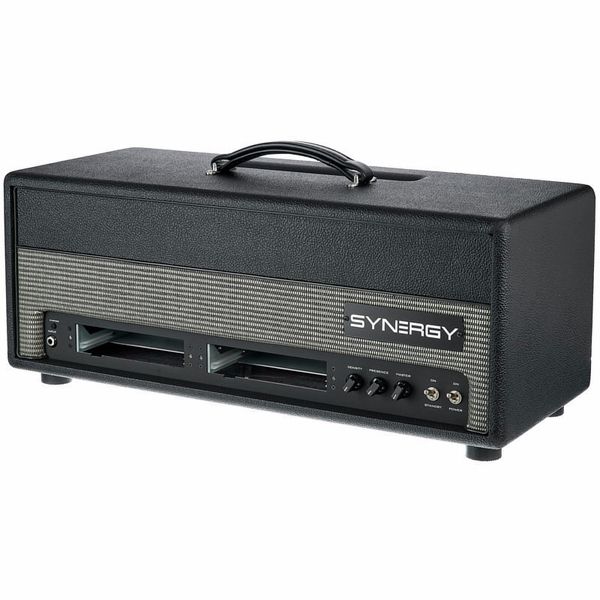 Steve Vai's famous effects
The Boss DS-1 is one of the most famous distortions pedals out there, and it contributed more than everything to Vai's sound. 
This is one of the most sold distortion pedals ever, with more than 10 millions pieces sold in all history. It contributed to make the sound of many other guitarists like Kurt Cobain from Nirvana, Marty Freadman and Joe Satriani.
Vai used the DS-1 both as a booster for the amplifier distortion and as a main source of drive as well.
Many of the sounds coming from his albums and live gigs, come from this very simple, inexpensive, and common pedal.
The reason why the DS-1 is so diffused is that it provides a wide range of sounds, as the tone control is very incisive and it can create both bluesy smooth overdrives 'till fuzzy high-ended sounds, fantastic for Grunge and post-Grunge music. 
The DS-1 is probably a must in any guitarist's pedalboard.
Steve Vai's Strings
Ernie Ball Super Slinky Cobalt Guitar Strings (9-42)
Vai tends to like mostly 009-042 strings on all his guitars.
Whenever he has to tune down one step or more, he would go up to 010 or 011 if the strings would sound and feel like too sloppy.
What do you think of Steve Vai? Let me know in the comments!!
My name is Ignazio Di Salvo, well, Iggy for all my friends as my name is difficult to pronounce for non Italian speakers.
I am an Italian Guitarist, Singer, Composer, and Music Educator living in Belgium.  
I am passionate about music production and writing, I publish two articles every new week about music and music production-related topics.