Line 6 Helix Effects Review
Average price: $599
Links to buy:
Pro#1 Line 6 recognized quality effects
Pro#2 Compact dimensions, can be easily carried around
Pro#3 Midi 
Con#1 Some effects need a sound update
Disclaimer: the links in this article are simply affiliate links, which means I will earn a small commission if you will buy something from the shop after you have been there. Nothing will ever change for you, and this is a way to monetize and sustain my blog activity.
What's the Helix effects?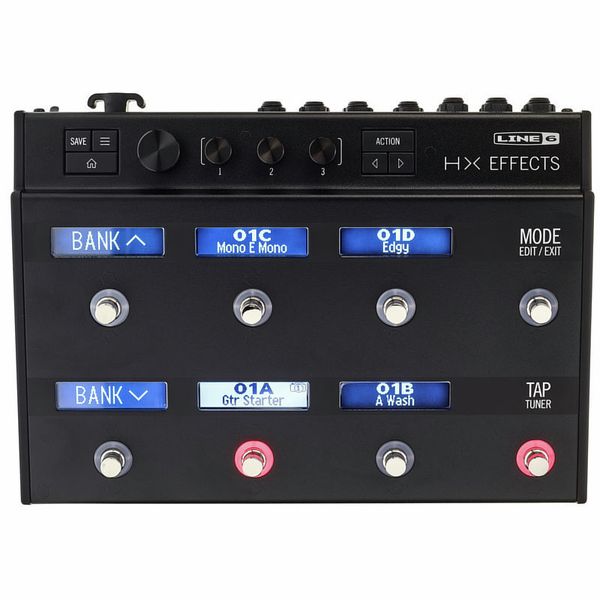 The line 6 Helix series offers different types of digital processors for guitar players, and generally all types of musicians.
Included in the Helix Family we have the Helix Floor, Helix Rack, Helix LT, The Helix Stomp, and the Helix Native software.
Each one of these products is specially designed to provide both effects and amp simulations can import impulse responses, and can cover a wide range of uses. 
In this article, we will see together the Line 6 Helix Effects, a simple unit only dedicated to the emulation of different effects like distortions, overdrives, delays, modulations, reverb, and a lot more.
Contrarily to the Helix Floor, Rack and Stomp, the Helix Effects can only reproduce effects and can import impulse responses, but it can't emulate guitar amps. 
It's a unit dedicated to guitarists that want to opt for an all-in-one solution and that want to avoid carrying around a fragile pedalboard filled in with several effect pedals. 
The Helix Effects is specifically designed to reproduce the sounds of many effects pedals on a single, little, portable unit. The result is very practical, but at the same time it does not sacrifice the quality of the sound, the variety of the effects, and the overall user experience. 
How is the Line 6 Helix Effects Organized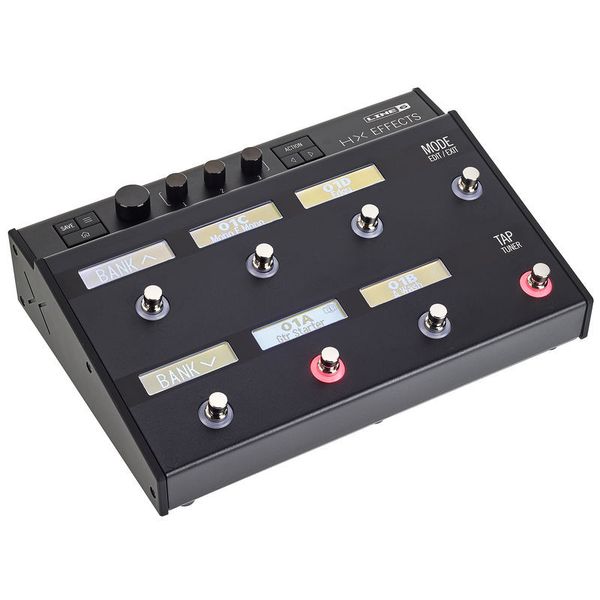 Helix Effects contains more than 100 High-Quality effects, many of them taken by or already inspired by the legendary Line 6 stomps pedals. 
Each effect can be stored in presets, or can be used in pedalboard mode, switchable through a single button. 
Furthermore, we have access to the Worshiptutorials.com downloadable patches, as well as the Helix Native amp/FX modeling plug-in. Another advantage of buying this unit is the access to the free Helix training from Doug Doppler's Helix University. Buying the original Line 6 product will also give us the right to advance emergency replacement, just in case of software or hardware failures.
The more than 100 effects are directly taken by the Helix units, and thanks to the high processing power, we can use up to 9 effects simultaneously. The hardware is composed of eight buttons, six for the effects routing and two for the mode selection and the tap tempo. 
As already mentioned, the effects can be routed in two different modes:
In the pedalboard mode, we can store our effects in presets and select them through one of the six available buttons. Each button click will select all together the effects and parameters we stored in the single presets.
In the stompbox mode, each effect stomp is assigned to a single button switch, and we can activate or deactivate it with a simple button pressing. These modes basically emulate what could happen on an analogic pedalboard, with the additional advantage of the tap tempo to control the overall midi clock. We can activate in real-time single effects, add more distortion, and momentary modulations for playing specific guitar parts and so much more.
The routing possibilities are infinite, and this gives us a lot of power together with maximum flexibility.
The modes are selected in real time through the assigned buttons. As already mentioned, everything is controlled by tap tempo: this means that we can give a specific tempo to parameters like delays and modulations, for example. 
Additional expression pedals can be added through external footswitches, and furthermore, we can send and receive midi signals through the two midi ports. This will allow us to work together with other multi-effects, change amp channels in real-time (if the amp has midi access) and so much more. 
The Helix Stomp can be used both direct, or 4/ cables method depending on our exigences. 
It can be used to integrate and complete our analog pedalboard, or just be used as one if needed.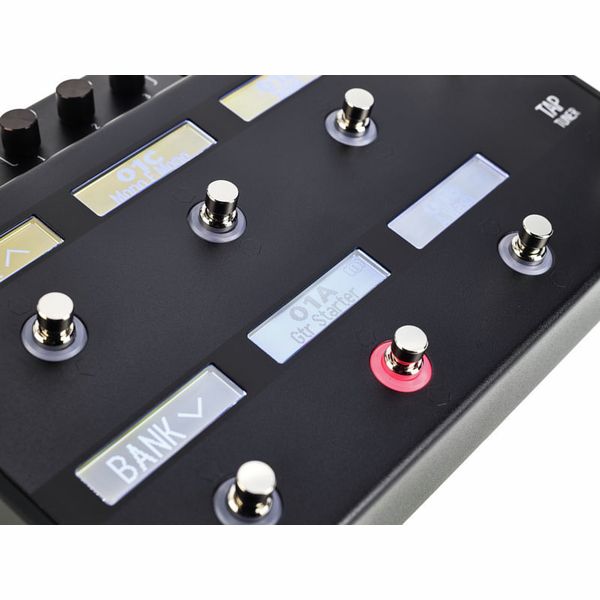 The Helix Effects include more than 100 different effects in all varieties. Overdrives, distortions, delays, reverbs, modulations, and special/ambient fx for all possible purposes. 
Each effect can be assigned to a single switch, and parameters can be changed in real-time thanks to the toggles. 
What's amazing about the Helix FX is the facility of use and the easy way to manage each parameter with just a little touch of a button. It's amazing having the same experience as an analog pedalboard with all the advantages of midi and digital technology. 
Not to mention, we have full access to a looper with more than 1 minute of memory at normal speed. Everything is completed by an easy-to-access tuner for any instrument. 
To have a comprehensive list of all the effects included in this unit, you can check the user manual at this link.
How does it sound?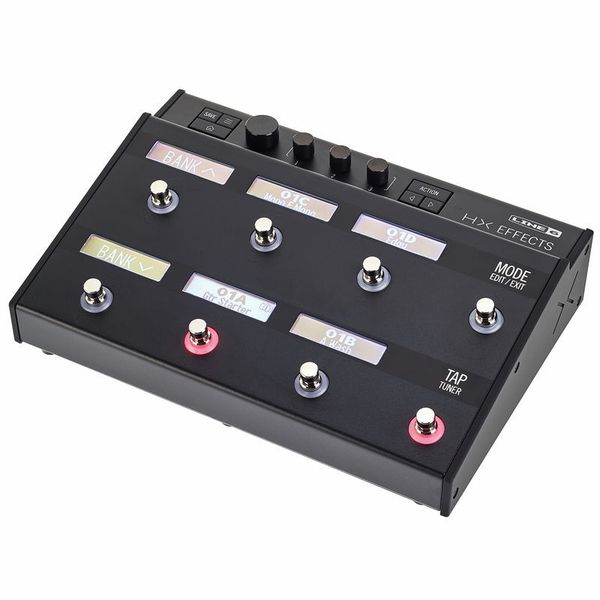 I tried all the different effects, so here's a list of what I really liked and what for me needs improvement. 
Generally speaking, modulations, reverbs and delays are incredible. The delays are rich and organic. They sound exactly as they should and they offer a wide range of colors, including modulations and any type of "psychedelic" application. 
The same for the reverbs, which are deep and rich. We can use tons of different reverbs, and we can toggle very specific parameters to achieve the type of sound we desire. 
Modulations are spectacular, I would however modify a bit some chorus and uni-vibe that sometimes sound a bit behind. But the problem can be solved with the necessary adjustments to the available parameters.
In general, we have algorithms for all types of effects we can even imagine. All types of delays, tremolos, rotary effects, and fantastic pitch and synth models to alterate the guitar sounds. The applications can be very nice and creative!
I liked a lot some pedal distortion like the ProCo Rat, and in general, all the overdrive and distortion pedals are well reproduced. 
What I liked less are Fuzzes, which sometimes are not well defined, too noisy, and most of the time not so useful to obtain credible sounds. The good side of it is that we have all possible pedals in a single unit, and it saves a lot of costs as well as space on our pedalboard. 
What I also liked are the different types of filters, that I personally use when I want to add some sparkle in my solos or rhythms. They sound super nice and super fun. It's nice to have the emulations of Moog pedals for example, They sound amazing but they are very expensive and also super heavy to carry around. 
My name is Ignazio Di Salvo, well, Iggy for all my friends as my name is difficult to pronounce for non Italian speakers.
I am an Italian Guitarist, Singer, Composer, and Music Educator living in Belgium.  
I am passionate about music production and writing, I publish two articles every new week about music and music production-related topics. 
Disclaimer: the links in this article are simply affiliate links, which means I will earn a small commission if you will buy something from the shop after you have been there. Nothing will ever change for you, and this is a way to monetize and sustain my blog activity.