The three best reactive loads to buy in 2023
The impulse responses technology is radically changing the way we record guitars in the studio. 
So in this article, I will review the three best reactive loads to buy in 2023, so you can obtain the best recording guitar sounds you have ever had, also for your live gigs!
The impulse response technology, what is it?
As we said already, impulse response technology (IR in short) is completely changing the way we record guitars in the studio and most importantly, the way we record and play guitar while on stage.
In my blog, I have already reviewed many digital amp simulators like the Kemper or the Line 6 Helix. A load box is however a totally different beast, and the great advantage is that it allows you to use your tube's guitar amp while recording, so you won't have to relate to a digital processor.
In order to have realistic and rich sounds, in both cases you have to use impulse responses, directly integrated into the interface or customized. 
And of course, now you are asking yourself what the hell is an Impulse Response and how it works… 🙂
An Impulse Response is a digital picture of the cabinet you are playing with. It is no more than the footprints of all the parameters involved in the process of making your speaker sound in a certain way, like the sound impacting the microphone, the type of microphone itself, the width of the room, and the overall quality of your chain signal. 
Once you have this footprint, you can make a simple .wav file of it, and use it in a digital mixer while you are using a DAW like Logic or Cubase.
The great advantage of this process is that you won't need to crack up your amp at a very high volume in order to obtain a good quality sound, and you don't have to use expensive microphones in a very sharp and isolated environment. You simply have to use a load box after your amp and then use IRs in your DAW (Digital audio workstation, like Logic or Cubase) to emulate different cabinets and microphones.
Also, you can obtain a great-sounding result without actually owning these (expensive) microphones and cabinets, and you don't have to have a perfectly isolated, good-sounding room to make your cabinet sound rich and dynamic at the right volume level. 
You can also mix different IRs to emulate the interaction of different cabinets and microphones in your DAW, a simple situation that would be really difficult and not practical to do with real gear in "old school" mode. 
Not to mention, you can do all of this while being completely silent in your own studio, so that your wife/husband won't ask for a divorce and your neighbors won't call the SWAT team.
In order to do all mentioned above, you will need a load box. 
A load box is that magic "thing" that stands between your amp and the input of your digital audio interface. 
It literally transforms the sound impulse coming from your amp in a digital signal that can be processed once inside your DAW. After that, you can add IRs to emulate different speakers and mic responses and obtain the final sound you prefer. 
But which are the best-sounding Load Boxes in the 2023 market? 
Let's see it together! 
Pro#1 Very good sound
Pro#2 Accurate controls on many parameters, conceived for professional use
Pro#3 Robust and well-built
Con#1 Expensive
Con#2 Too big to be carried around easily
Quoting the Universal Audio website: 
"OX is a premium reactive load box and guitar recording system, giving you perfectly studio-miked amp sounds from your favorite tube amp"
OX stands out in the load boxes market as the Queen of all products. The quality of the sound is absolutely top-notch, and it offers the maximum of flexibility. 
OX is way more than a simple Load Box: it is an entire sound workstation that will emulate different mics, cabinets and ambients around the sound signal coming from your tube amp.
You will be able to save more than 100 custom rigs while interfacing with your iPad or your PC/Mac computer.
On top of that, Universal Audio's uses the  Dynamic Speaker Modeling technology, a system that will allow you to accurately emulate speaker drive, breakup, and cone cry to have the maximum control on your sound. 
The possibilities coming from the OX are absolutely endless, and it can be used also as speaker attenuation, so you can push your amp at high volume making coming out the best juicy sound possible.
By the front panel you can easily move through different speakers and mics, and you can choose among many simultaneous effects. 
After trying the OX, I can say that Universal Audio makes very good quality products as usual. The sound possibilities are truly endless, the amp sound is finely reproduced always with a fine and transparent signal. Clean sounds, always the weak point for any digital simulator, are incredibly well reproduced, with a great dynamic. This is personally for me a super important advantage, as I find very easy to metal guitarists to have great sounds for rhythms, as the metal distortion is more or less almost always the same sound. 
The situation becomes way more difficult when you search for good crunches and cleans that DO NOT sound as maracas into a glass bottle. For this purpose, unless you want to mic'in your amp, the OX can be the answer. 
On the other side, the OX can be a bit pricey, even if the quality is absolutely top. So, if you decide to take it, consider it as a long-therm investment for your studio equipment. I would bring it around live, but maybe I would opt for something more easy to carry and little. 
Great product overall! 
Suhr Load Box IR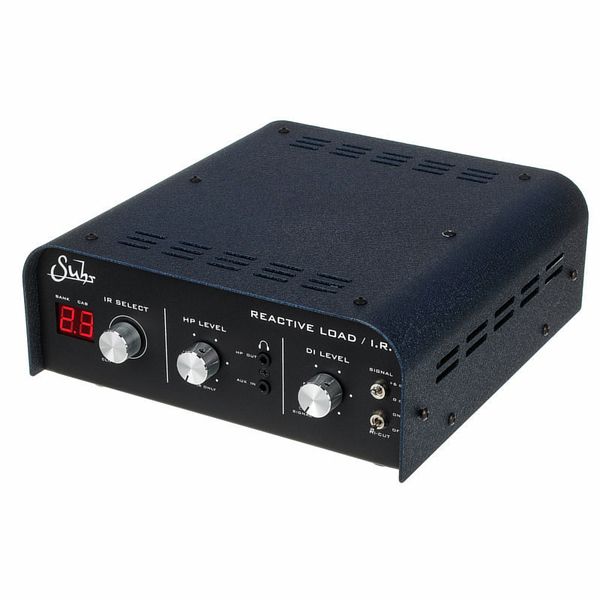 Links to buy
Pro#1 Great Sound
Pro#2 Robust and relatively easy to carry around
Pro#3 Direct, easy to manage and to use
Con#1 Maybe a bit heavy
Con#2 Maybe a bit too "spartan", but this is what makes it simple
The Suhr Load Box is my personal preference when it comes to load boxes. I use the version without integrated IRs, as I don't use it for live gigs, and it stays in my studio.
I however suggest you the version with IRs, so it will be more flexible for you, and it will give you more opportunities. 
First, it is less expensive than the OX (half the price), but the overall sound quality is practically similar.
Second, it is very relatable, easy to use and to carry, even if a bit heavy, maybe. 
Of course, the price difference with the OX is justified not only by the sound quality (which in my opinion is equally very high), but also because the Suhr does not offer all the possibilities and the audio workstation interface of the OX, plus it does not offer all the ambient emulations that the OX emulates perfectly. The Suhr is definitely more straight to the point, and it makes its dirty job just fine. 
You can charge your favorite IRs through a midi port, select them with the nobs, select the amount of signal you want to come in, balance the IR signal with the input signal, and also send at the same time the signal to your cabinet during a live gig, practical! 
Another option is cutting out some high frequencies and add a +6db booster to sculpt a bit better your sound, depending on the kind of amp you are going to use and which frequencies will be involved. 
Let me say that I personally like a lot this product, it is just on point. I used it for many studio gigs and sessions, I used it to record my latest album, and I keep on using it for many other different purposes. 
The sound quality is incredibly high, depending on the cabinet IRs that you use, you can have great results both live and studio, and you won't miss at all microphones. 
Another favorite point, for me, is the simplicity. I don't want to lose time tweaking knobs, I don't want to have an iPad to control all the parameters. I just want TO PLAY, while dedicating less time possible to the technical side. In this the Suhr makes a great job. 
The Suhr reactive load fully satisfies this purpose, and it makes my life very easy. 
I use the Ignite Libra plug in to mix all the different IRs to have my final sound, and I can emulate a room filled in with one to eight different cabinets. The results are very satisfying for me, and you can listen to some of my sounds on this page. 
Keep however in mind that this is the product I personally use among the 3 of this review, so I am however influenced by the daily use of it. 
Two Notes Torpedo Captor X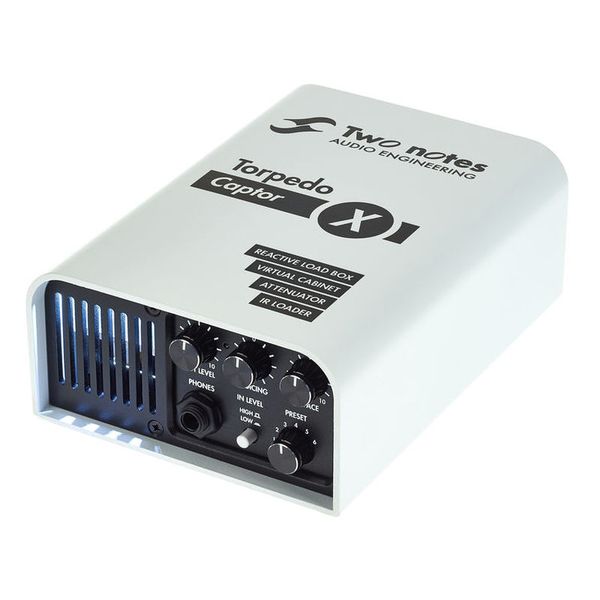 Links to buy
Pro#1: Good sound and overall quality 
Pro#2 Well structured
Pro#3 Good price
Con#1 Attenuation -20db is a bit too much
Con#2 Reverbs and ambient maybe don't sound as rich as the ones on the OX
The Torpedo Captor is our third device to be reviewed in this article. The concept behind this cute little box is a bit different from the previous two devices, as Two Notes proposes it as both an amp attenuator to play with your tube amp squeezed without producing an enormous amount of volume, and as a load box for live and studio purposes. 
The attenuation function will make you able to use your tube amp at its full power (until 100W) while cutting out the volume at the same time. 
This trick will allow you to enjoy the power and the dynamics of your favorite tube amp without destroying the neighborhood's peace, which is very important for us musicians 🙂 .
You can also play with your amp by using the phones, silently during the night, for example.
And if this is not enough, you can carry Captor X with you live. 
If for example, we like to use our best tube amp live, but we are tired of carrying with us a heavy cabinet, and we play with in-ear monitors entirely (like me for example), then the Captor X is the perfect solution to have our favorite tube sounds in a pocket. Thanks to the DynIR technology, we can emulate any sort of cabinet and microphone, and control everything easily via tablet or phone while on stage. 
Through the app, we can also control all the parameters we need to tweak to emulate rooms, ambient, and mics. We will obtain a pure, perfect sound to be sent to the PA, and we will enjoy the sound of our tubes at their fines. 
The same can be done in the studio, and for this particular purpose, the Captor X is the true weapon to obtain the best from our tube heads and combos. 
If you are a producer with a lot of guitar amps in the studio, but you don't have an isolated room to dedicate to mic-ing your amps, then Captor X is the right choice. 
In addition to all these features, the dual mono function allows you to have a dedicated EQ and Reverb. A set of studio-grade effects are included: enhancer to make your tone fatter and more present, twin tracker to give a more stereo sound to your signal, stereo reverb to emulate the sound of different rooms, voicing to control the middle range of all the sounds, and an EQ and a Noise Gate. 
As a result, the Torpedo Captor X is again an amazing product, complete and still sold at an accessible price. 
I invite you to try the three different products before buying, of course. Even if my personal preference got to the Suhr, also the Torpedo is an incredibly good alternative, that offers for sure more flexibility: you can store more IRs and you can control many parameters by using the app, an option that the OX and the Torpedo both have. So I guess that the Torpedo is reasonably the right choice in terms of price/features, as the OX is quite expensive despite the amazing sound quality. 
It is everything for this week, folks, I will see you in the next article!
Iggy
🎸Tabs, Backing tracks, pledge me to release new original music:
✅ https://www.patreon.com/ignaziodisalvomusic
🎸Subscribe to my YouTube Channel
✅ https://youtube.com/@iggydisalvo
🎸My Website
✅ https://www.ignaziodisalvo.com
🎸My Blog
✅ https://ignaziodisalvo.com/blog/
🎸Instagram
✅ https://www.instagram.com/ignaziodisalvo
🎸Skype/Zoom One-to-one Lessons
✅ https://ignaziodisalvo.com/zoom-skype-guitar-lessons/
🎸 My Guitars in your Productions:
✅  https://ignaziodisalvo.com/online-session-guitarist/
🎸 My online shop
✅  https://ignaziodisalvo.com/shop/
➡️ MY SPONSORS ⬅️
🎸Guitar Pro: my favorite notation software [affiliate links]:
🎸My Favorite software to study and transcriptions: Transcribe![affiliate links]:
✅ Windows: https://bit.ly/3tbN5Qu
✅ Mac: https://bit.ly/3KPz29k
🎸 Grow exponentially your Youtube Channel:
✅  https://www.tubebuddy.com/ignaziodisalvo
➡️ MY ENDORSEMENTS ⬅️
🎸My Favorite gear in Thomann [affiliate links]:
✅ https://thmn.to/thocf/x5742as97c
🎸My Favorite gear in Sweetwater [affiliate links]
Ibanez Guitars:
Victory Amps
My name is Ignazio Di Salvo, well, Iggy for all my friends as my name is difficult to pronounce for non Italian speakers.
I am an Italian Guitarist, Singer, Composer, and Music Educator living in Belgium.  
I am passionate about music production and writing, I publish two articles every new week about music and music production-related topics. 
Disclaimer: the links in this article simply affiliate links, which means I will earn a small commission if you will buy something from the shop after you have been there. Nothing will ever change for you, and this is a way to monetize and sustain my blog activity.