The 4 best studio monitors for music production in 2023
Studio monitors are an essential component of any music production room. Not only they will make a difference in your mix and mastering, but also they will have an enormous influence on how you will perceive the sound coming from your own instrument. 
Investing in high-level studio monitors is always a milestone for any serious producer, and it will make a lot of the difference if you are a sound engineer, and you want to provide the best possible result to your clients.
But how to recognize if a studio monitor is worth the hype, and which are today the most used studio monitors in the market? And most importantly, which are the ones that fit the budgets of independent producers that make music in their home studio?
In this article, I will talk about the 4 best studio monitors for music production in 2023.
Let's start!
First and foremost, I advise you to take a look at Sweetwater (if you live in the USA) and Thomann if you live in the EU.
Here you can check which are their best offers and what would eventually be worth for your studio:
Yamaha HS 7 MP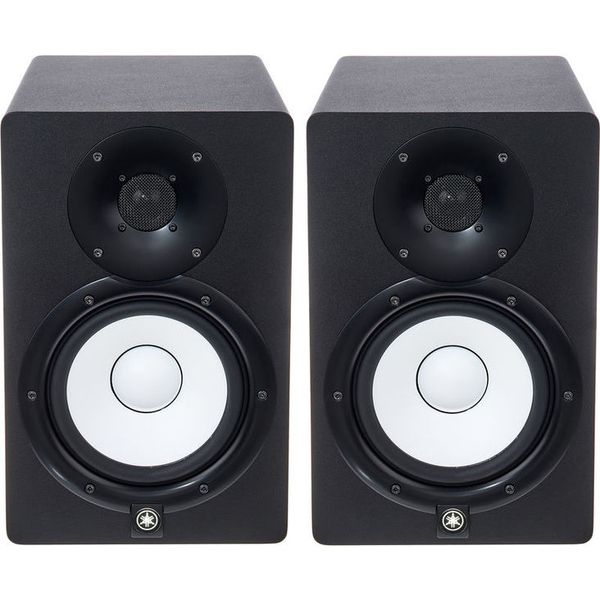 Average price: $699.98 (pair)
Links to buy:
Specs:
High-performance drivers and mounting system
6.5″ cone woofer, 1″ dome tweeter
Large magnets in an Advanced Magnetic Circuit design
Built-in bi-amplification: 60-watt LF, 35-watt HF
Dedicated power amps are perfectly matched to the woofer and tweeter
The enclosure is designed to kill unwanted resonances that can influence the sound
Room control and high-trim response controls give you optimum response in any room
Pros
Precise stereo imaging
Accurate, pro-proven mix sound response
High-performance drivers and mounting system
Cons
No cables included
Wide listening sweet spot
The HS7 is always a guaranty in studio monitors since the arrival of the NS-10 in the late -70. Since then, these types of monitors have been present in almost any serious recording studio.
The HS7 is the natural evolution of Yamaha's research and pursue to perfection. The combination of type of mounting and the large magnets used provide a solid and definite response to high frequencies and great dynamics. 
The HS7 is for sure the type of monitor that helps in playing and mixing better.
Tannoy Gold 7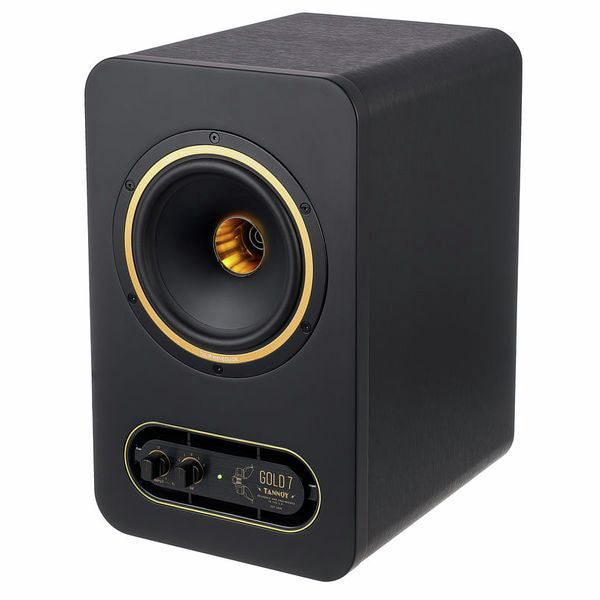 Average price: $299.00 (each)
Links to buy
Specs:
Premium 300W bi-amped nearfield studio reference monitor for accurate, high-definition sound reproduction
Ultra-precise and neutral soundstage delivers non-fatiguing sound for extended listening sessions
Legendary Tannoy Dual Concentric driver technology for class-leading phase coherence and point-source imaging
Front-firing bass port design allows for near-wall placement and ensures optimal low-frequency performance
Next-generation 6.5″ Dual Concentric driver provides unrivaled articulation and outstanding dynamics
1″ titanium tweeter with Tulip Waveguide produces detailed stereo image with wide sweet spot
Transducer-matched LF and HF Class AB bi-amplification for accurate dynamics and efficiency at any volume
Continually active XLR and TRS phone jack inputs let you connect 2 audio sources simultaneously
Dedicated input trim, bass, and treble controls let you optimize the monitor for your room acoustics
Selectable automatic standby mode conserves energy
Designed and engineered in the UK
3-year factory warranty
PROS:
Unique design
Good stereo image 
300 Watts of AB amplification
Auto Stand-by
CONS:
no magnetic shielding 
a little emphasis on mid-bass frequencies
The Tannoy monitors are well known for their transparent response and the uncolored audio representation they provide. Whenever you need high fidelity and clearness on your sound, Tannoy monitors are a guaranty to obtain these results. 
This British company has got more than 90 years of activity on its shoulders, and it is highly committed to making high-quality products with captivating designs. Since audio monitoring is highly connected to driver quality, Tannoy makes its own drivers in order to have full control of the production chain.
The Dual Concentric driver technology, in fact, preserves the tonal character and the harmonic integrity of the reproduced audio.  
The response of these monitors is well-balanced and accurate, with a slight enhancement of the mid-bass spot. 
The only con is they produce a little hiss with high gains, which can be easily fixed by turning down the nobs.
Presonus Eris E3.5 BT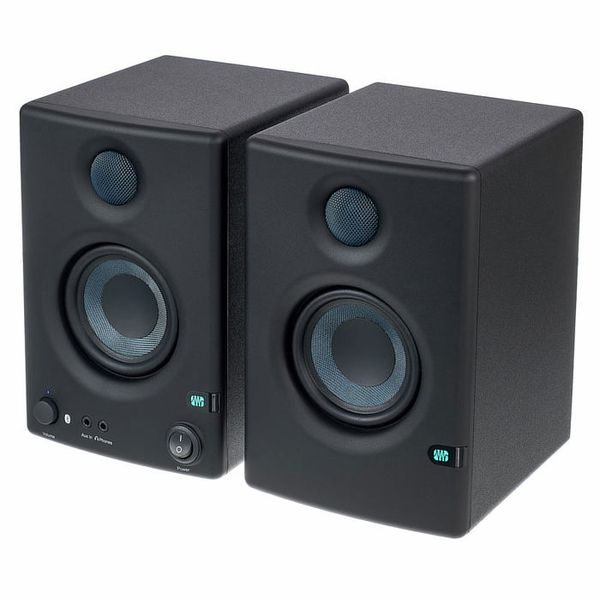 Average price: $149.99 (pair)
Links to buy:
SPECS
Compact footprint fits almost anywhere
3.5-inch woven composite low-frequency driver produces tight, powerful bass response
1-inch silk dome high-frequency driver provides a wide sweet spot
±6dB acoustic tuning control tailors your monitors to your room
Bluetooth 5.0 connectivity lets you play audio from smart devices or go cord-free
Multiple input configurations let you connect to almost any audio source
Front-mounted headphone output allows you to work without disturbing others
Soft Start feature prevents popping while powering-up
PROS
Clear and powerfull audio with transparent response, ideal for editing
Treble and bass equalizer knobs offer ±6dB of adjustment
Bluetooth compatibility
CONS:
Lacks bass frequencies a bit
These monitors are ideal to mix in small rooms where you don't have space enough. They are able to produce a very clear and transparent audio quality considering their size, even if they maybe lack a few bass frequencies, which it's normal for monitors on this side. 
Ideal for home studios, thanks to Bluetooth technology they can provide amazing sound without the use of cables. 
You'll also find manual acoustic tuning knobs on the back of the units to optimize them for your acoustic environment.
PreSonus loaded the Eris 3.5 with a 3.5-inch woven composite low-frequency driver and 1-inch silk dome high-frequency driver to have a perfect and balanced sound response. 
KRK Rokit RP10-3 G4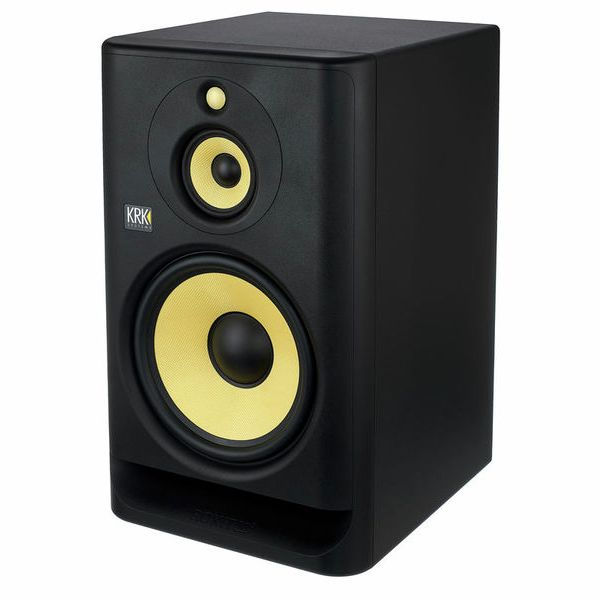 Average price: $474.00 (each)
Links to buy
4th-generation Rokit studio monitor with pro-grade 3-way design
Rigid Kevlar drivers ensure low-distortion sound reproduction
Efficient Class D power amp pumps out high-quality sound at reduced operating temperatures
Built-in brickwall limiter provides a balanced sound, safeguards against damage, and maintains your audio's dynamics
Optimized high-frequency waveguide produces a wide, deep, dynamic sweet spot and incredible imaging
Low-resonance enclosure gives you spot-on low-end performance
Front-firing port yields excellent low-end response and straightforward speaker placement
State-of-the-art DSP includes room correction, an LCD visual EQ, and more
KRK app adjusts EQ settings, subwoofer levels, crossover settings, and polarity settings and aids with speaker placement and level matching
Onboard signal generator is a must-have for calibrating your system
PROs
Robust and solid
ideal for studio rooms
wide sweet spot for listening
CONs
Maybe a bit pricey for the range 
KRK monitors are a guarantee of choice to obtain professional mixdowns at a fair price, even in non-optimized home studio rooms. These monitors are made exactly for that: providing a well-equilibrated sound for all type of music producers. 
The KRK Rokit 10-3 G4 is equipped with state-of-the-art DSP to help you make the most out of your acoustic environment. Its visual graphic EQ helps you correct room problems easily. You get at-a-glance confirmation of your EQ settings with the Rokit 10-3 G4's built-in LCD graph, all while getting real-time spectral analysis from the KRK app on your iOS or Android smart device. This is very useful if you want to obtain the best possible conditions for listening. 
Also, the dynamic response for these monitors is well-balanced as well, and it will help you to listen to your instrument or vocals at ease, giving back the best possible audio fidelity. 
The Rokit 10-3 G4's custom-designed Class D power amplifier is efficient to give back a powerful, neat, and transparent sound. 
These monitors are for sure a long therm investment for any home studio. 
It's all for today, folks! I will see you in the next article!
My name is Ignazio Di Salvo, well, Iggy for all my friends as my name is difficult to pronounce for non Italian speakers.
I am an Italian Guitarist, Singer, Composer, and Music Educator living in Belgium.  
I am passionate about music production and writing, I publish two articles every new week about music and music production-related topics. 
Note about the links: many of the links in this article are affiliate links. It means that if you will buy something after you click on one of them, I will earn a small commission. Nothing will ever change for you, and you won't be affected in any way.