7 Best Electric Guitars Under $500 (2023)
If you are a student or if you are just starting to play and study guitar, and you are testing where it goes, you most probably won't have a big budget to spend on a new instrument. 
For a big budget, I mean around 2000$ as a starting point. For sure, I don't advise you to spend much money on a brand-new instrument if you are just starting out. You can easily start with a cheap one, but still good-quality, then eventually upgrade it or sell it used for something a bit better.
Let's also clarify that spending an enormous budget on a high-level instrument is not always synonymous with satisfaction. 
In my career, I have had medium-priced guitars that still are amazing for me, like my Ibanez RGs and AZs, and super high-priced instruments just did not fit me in the long run.
The beauty of it is that you can also buy it online, try and if it does not satisfy you entirely, you can always re-sell it used. 
Disclaimer: be sure to set up your guitar before starting to play tho, though remember that guitars coming out from the fabric are not set up, their action (the distance between the string height and the neck) is too high, and sometimes their octaves are not in tune. Be sure you regulate your instrument to a luthier before starting to study. This will spare you further pain and discourage. 
You will thank me later. 
Since high price is not always synonymous with playability, today you can easily find very good guitars for less than 500$ budget.
In this article, I will suggest you the 7 Best Electric Guitars Under $500.
Let's start!
Average price:$349.99
Links to buy
The AZ ES stands for "Essentials" and it is the latest affordable guitar from the Japanese brand. 
Built to provide classic S-sounds and overall high quality, The ES won't upset your expectations despite the affordable price. 
It is equipped with a fast neck, and a floating bridge, and like many Ibanez is highly playable and ergonomic. 
It's a must if you want to start with a complete instrument that provides high quality on a minimum budget. 
Ibanez Guitars are always masters of this concept, and you won't be disappointed. 
Harley Benton TE-52 NA Vintage Series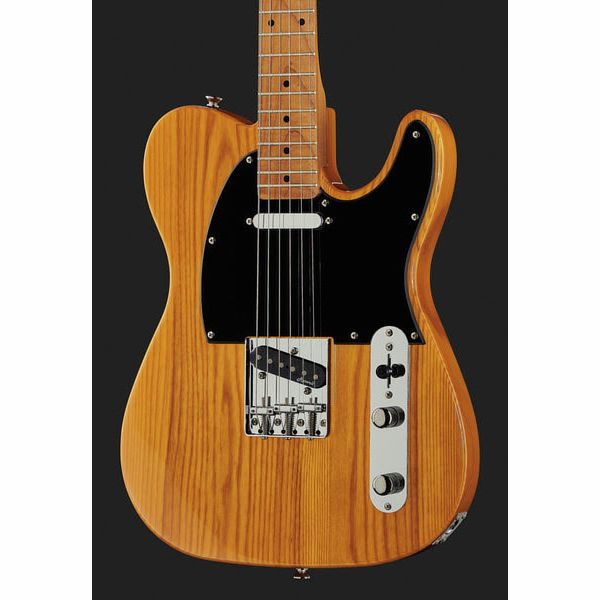 Average Price: 159 $
Links to buy
Harley Benton is a guitar brand that is aiming more than anything to offer decent quality instruments for an incredibly cheap price.
Many users are sometimes blown away by the overall building quality for the very affordable price of their guitars, and honestly most of the time it is true. 
With an American ash body and a roasted maple neck and fingerboard, this guitar is very easy and fast to play. The electronics are fine enough for the price, and of course, then there's the classic T-Style look.
It is the perfect guitar to just start out, and since the woods are in the end not that bad, it can always be upgraded to be improved. Maybe not the instrument for the professional musician, but totally worth the price for starters. 
Epiphone SG Standard '61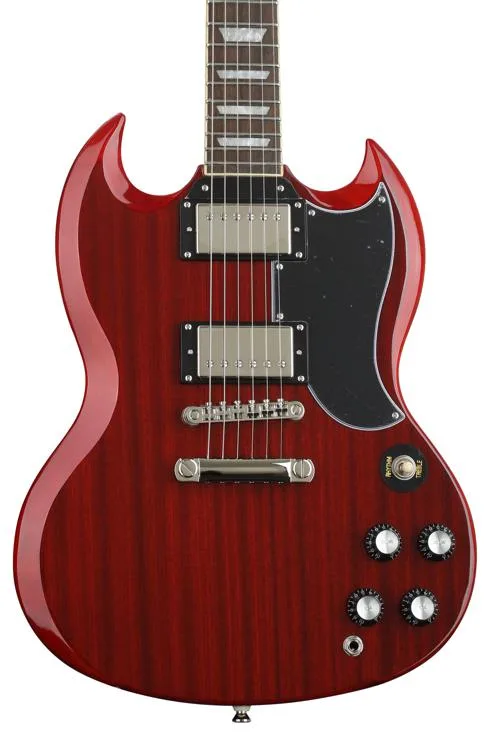 Average Price $549.00
Links to buy
The SG is a great classic. Iconized by arena rock bands like AC/DC and many others, it has the perfect rock look despite it has been used in many other music styles, from Jazz to Fusion, Metal to Blues.
The Epiphone SG takes out the best from the original version, like the Twin ProBucker humbucking pickups sounds, the mahogany body, and neck to provide a warm and rich sound.
This Epiphone goes very close to the quality of a Gibson SG, but for a very affordable price. 
If your budget is limited, but you are searching for this old-time classic look and sound, for sure this guitar will satisfy you.
Squier 40th Anniv. Strat LPB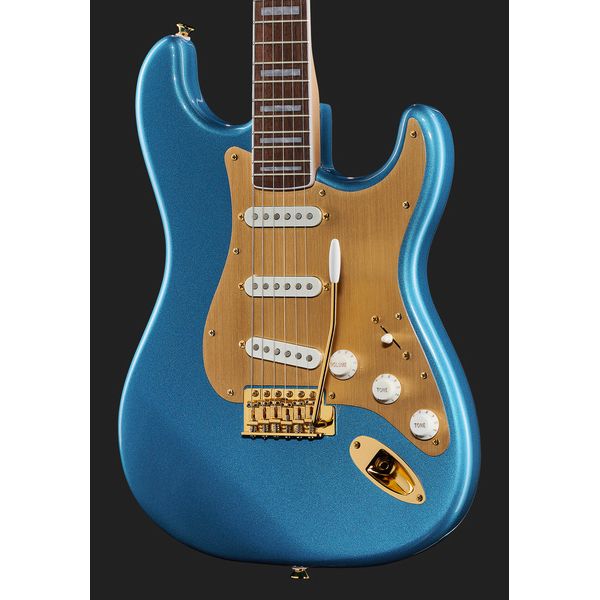 Average price: $599.99
Links to buy
This is another big classic for all pockets.
If you are searching for a classic Strat sound, but you don't want to spend too much, probably this guitar is made for you.
Equipped with a 6-saddle vintage-style Synchronized Tremolo and vintage-style tuners to the anodized aluminum pickguard, engraved anniversary neck plate, and aged chrome hardware and plastic control knobs, this Squire is a good option if you are searching for a classic vintage sound, an overall classic but amazing look and a price that suits practically everyone.
Ibanez RG370AHMZ-BMTStandard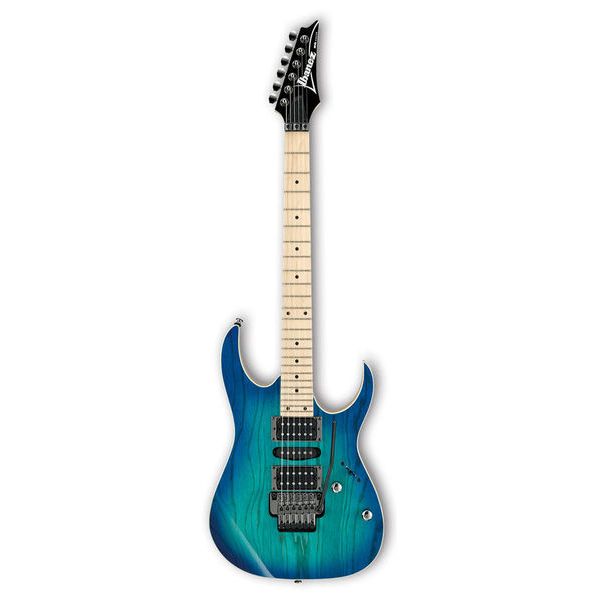 Average price: 519$ 
Links to buy
If you are searching for a modern sounding axe able to cover all the music styles including the heaviest ones, this Ibanez baby would be your option.
Equipped with an ash body and a maple neck, it will give you the typical Ibanez tones for all your shredding solos.
The Quantum Humbucker (neck), Quantum Single Coil (middle), Quantum Humbucker (Bridge) will help you have a good sound even during the heaviest distortions and the Edge-Zero II Tremolo with ZPS3Fe will help you have full control over every note.
Ibanez Steve Vai Signature JEMJR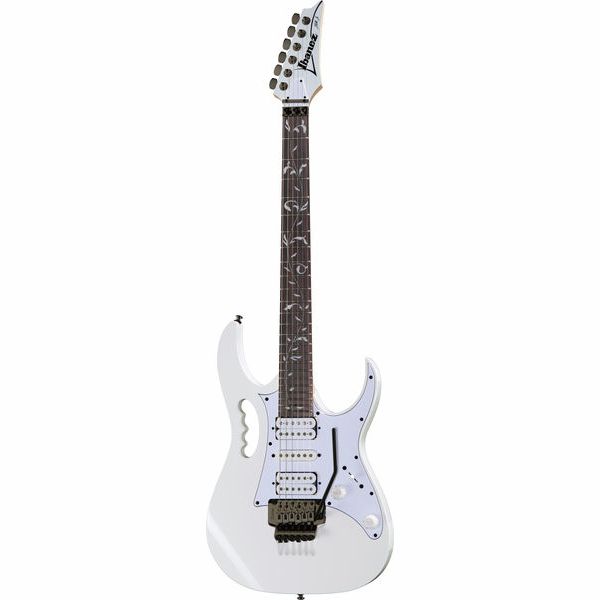 Average price: $499.99
Links to buy
The Ibanez JEMJR Steve Vai Signature is the more affordable version of probably the most successful Ibanez Guitar ever. Steve Vai's success contributed to the consequent success of the Jem and now the Pia guitars. 
The Jam is for sure an iconic modern super strat and the JAMJR is the more affordable version.
This guitar will lead you from modern rock sounds to classic vintage without the need to spend almost 3000$ for the Jem or the Pia.
Equipped with 2 Quantum humbuckers and 1 Quantum single coil (HSH) pickups, you will have a wide range of sounds at your disposal. The only downside is that it is only available in white. 
A super strat for everyone, with the blessing of Steve in person.
Harley Benton HB-35 CH Vintage Series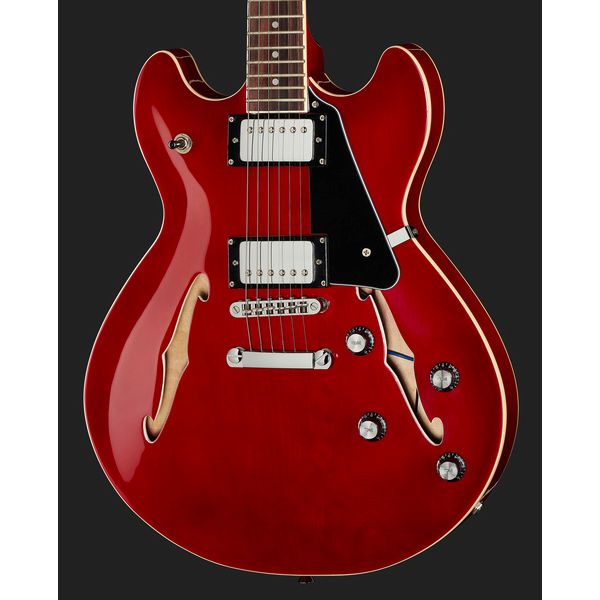 Average price 199$
Links to buy
Last but not least here we have another guitar by Harley Benton.
Normally, semi-acoustic guitars can be slightly expensive, but this one is still a semi-hollow body that has a great overall building quality for a price that is almost nothing.
The mahogany body, maple-arched top, and 2 Vintage-style humbuckers will provide you with a rich and warm sound ideal for rock, blues, and jazz.
The price of this guitar overall leaves me absolutely speechless. A very good deal for cheap. 
It's all for today folks, see you in the next article!
Ignazio
My name is Ignazio Di Salvo, well, Iggy for all my friends as my name is difficult to pronounce for non Italian speakers.
I am an Italian Guitarist, Singer, Composer, and Music Educator living in Belgium.  
I am passionate about music production and writing, I publish two articles every new week about music and music production-related topics. 
Note about the links: many of the links in this article are affiliate links. It means that if you will buy something after you click on one of them, I will earn a small commission. Nothing will ever change for you, and you won't be affected in any way.