IK Multimedia AmpliTube 5 review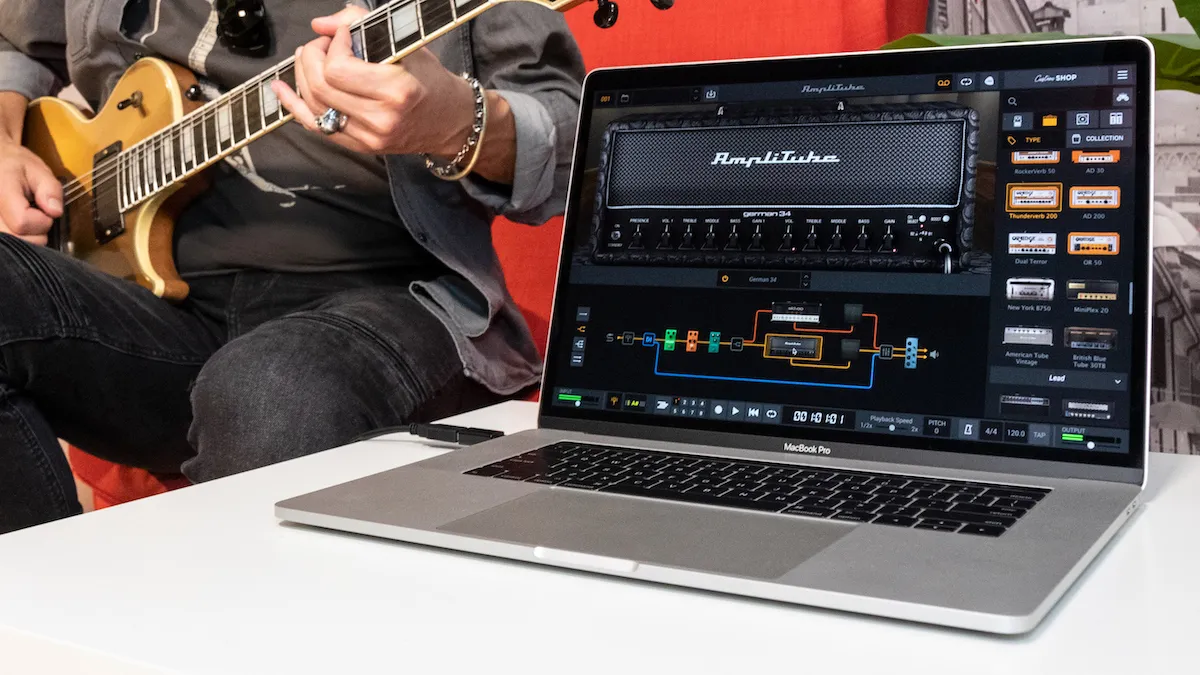 Average price:
AmpliTube CS: Free
AmpliTube SE: $149.99/€149.99
AmpliTube Standard: $299.99/€299.99
AmpliTube MAX: $599.99/€599.99
Pro#1 Enormous collection of amps and FX
Pro#2 Modelling is top-level and great sounding
Pro#3 Many models are officially approved by major brands like Mesa-boogie and Fender
Pro#4 Wide choice of routing possibilities
Con#1 The Max version is a bit expensive but still well worth
IK Multimedia Amplitube, all-in-one software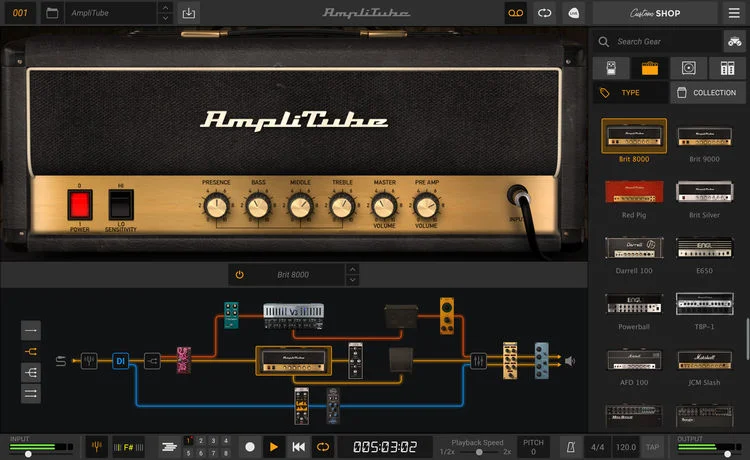 When it comes to guitar software products, technology has made several incredible steps forward during the last decade.
Not only do we have amazing Amp Simulators that can be easily carried around and that sounds great for a relatively medium budget, but now we can have an entire collection of amps for guitar and bass in software. 
Amplitube is surely one of them. It offers a wide collection of guitar amps, cabinets, and high-quality effects. 
It is completed by a metronome, a looper, a section that allows to slow down songs to study, and an overall wiring possibility that would be absolutely impossible in real life.
So, let's start with this IK Multimedia AmpliTube 5 review
Inside Amplitube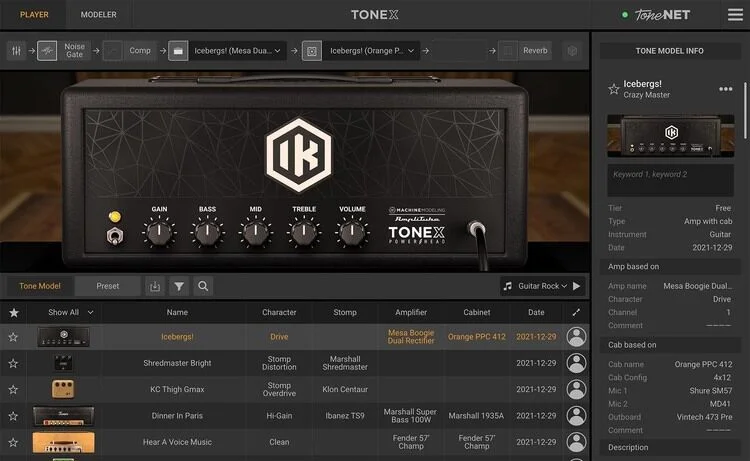 AmpliTube 5 is available in four versions: AmpliTube CS is the slimline version. It's free and includes 42 essential amps and effects. AmpliTube SE contains 80 pieces of gear for $149.99/€149.99. AmpliTube standard edition costs a bit more, $299.99/€299.99, but it does include over 170 pieces of kit.
You can at your ease add custom kits and amp bundles that you can buy from the website, so you can tailor this version to your exigences.
AmpliTube MAX includes more than 400 gear models, including 11 brand/artist collections – but does cost $599.99/€599.99. This is of course the complete version of the entire software, and it includes everything you need to have your accurate guitar tones in any style. 
Furthermore, Amplitube can be used as a stand-alone software in MAC and Windows platforms, or can be accessible to any DAW like Logic, Protools and Nuendo. Can find some information about these software here. 
Amplitube can also be accessible and controlled by external hardware, the IRig Stomp: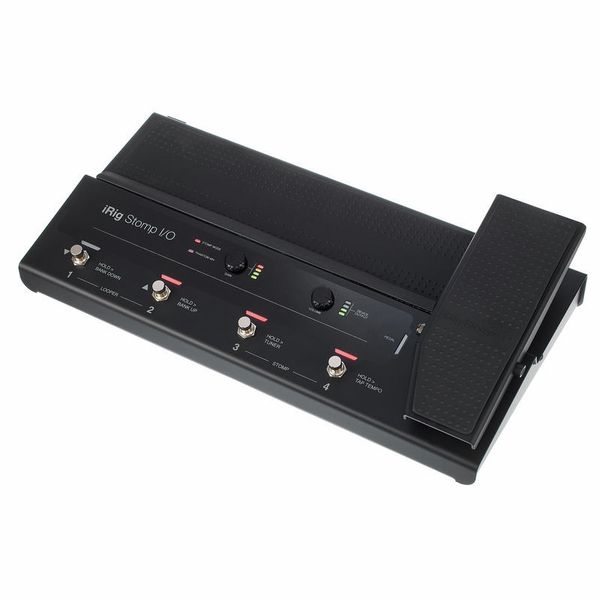 The amplifiers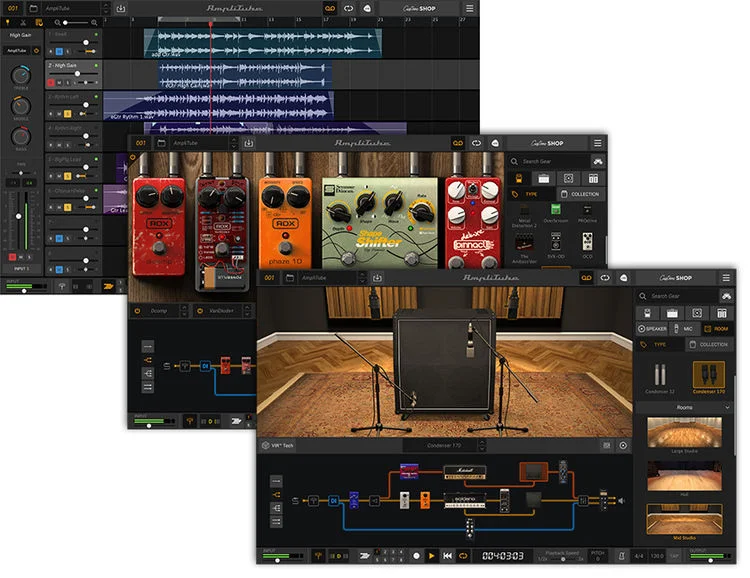 In Amplitube, we will find a wide collection of different guitar amps. There are all the most important historic amplifiers: from Fender to Marshall, passing through Mesa-Boogie and Soldano. 
We can also choose different types of microphones and their placements. We can, of course, load different impulse responses to widening our sound choice and toggle around the settings of each cabinet to obtain the best possible result.
What's amazing is that, other than sounding great, Amplitube offers a lot of possibilities in therm of signal routing. 
We will be able to put together vintage amps that would be very difficult to own in real life, like old vintage Fender and Marshall, and add to them modern IRs and effects. This is simply amazing, and it will give virtually infinite possibilities. We can implement more than 600 different IRs for every speaker, and experiment with different mics placements, interacting with the sound coming from the floor and from the room. We can simulate a 3D ambient in which the different cabinets interact with each other and with the sound of the room. Likewise, we can add EQ and compression and in general, we have full control of each parameter of the cabinet itself. 
The sound is overall credible, and high-quality. We will definitely have the impression of playing through a real mic'ed amp in the studio, plus the additional effects that we can freely wire as preferred. 
The level of the effects is indeed very high: many of the most important vintage and modern effect sounds are perfectly replicated, from phasers, delays, reverbs, wah, flangers and many others. We can easily experiment to sculpt and obtain the sounds we desire the most. 
The EQs and compressors are as well high quality and combined with the sound of the cabinets and IRs we have almost an infinite choice regarding CLEAN, CRUNCH, and DISTORTED sounds.
Artist Packages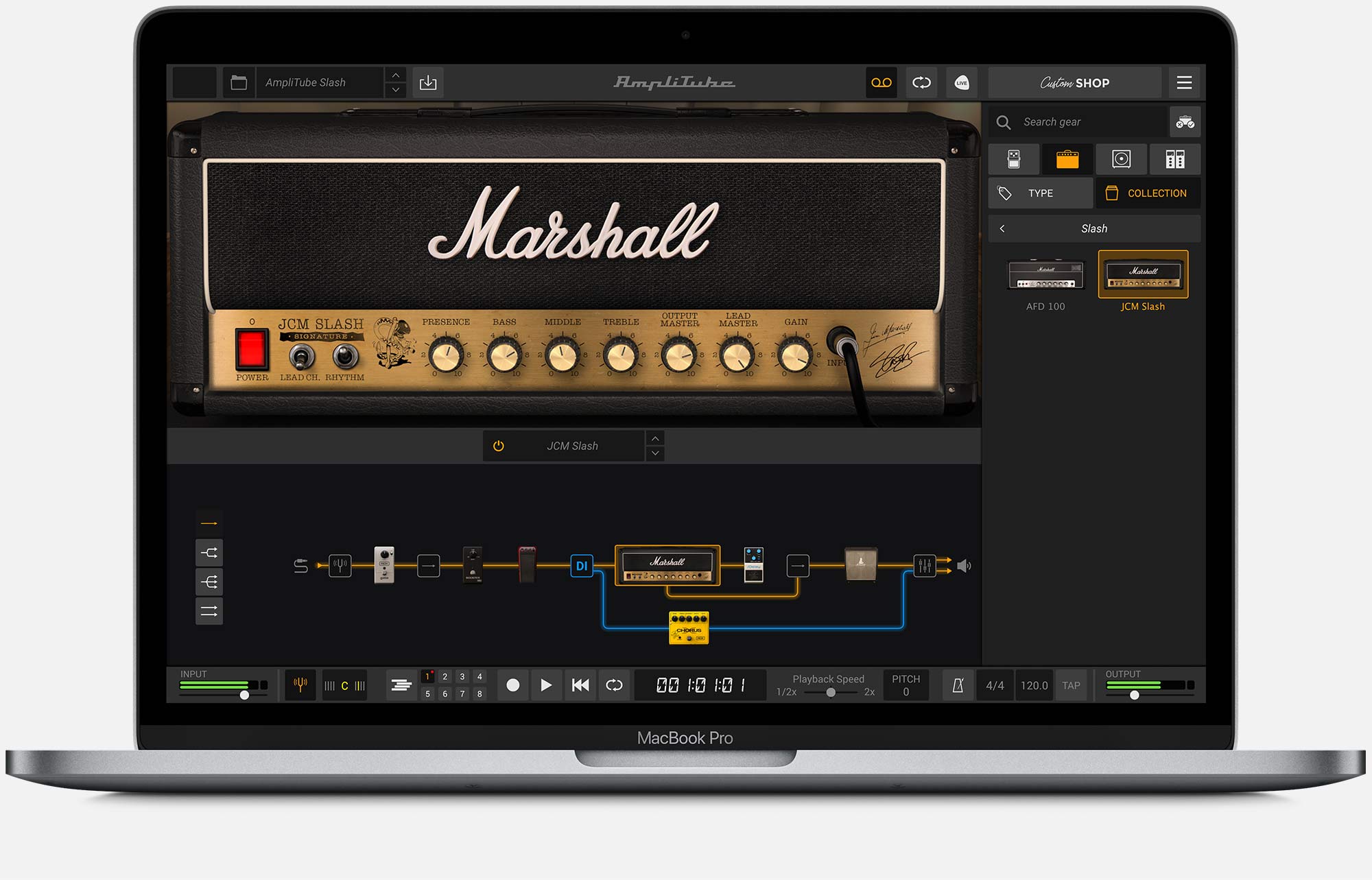 The cherish on the cake are for sure the artist packages: Slash, Brian May, Joe Satriani and Dimebag Darrel are just a few names. We can easily emulate the sounds of our heroes or start from there to build our sounds.
Not only but that, we also have a collection of packs dedicated to single brands, like Mesa-Boogie and Fender. 
Since it is mostly not probable that we will ever have at home a Mesa Mark I from the '80 or a Fender Bassman, we can now emulate them perfectly through software. 
Looper and other functions
An additional feature of the Amplitube is the looper, easily controlled through the IRig Pedalboard. 
To complete the bundle, IK Multimedia has built a dedicated Audio Card tailored on guitar players, to better interact with the software and keep the recording and the overall creative process smooth and fun. 
It's a product highly recommended to all the "old School" guitarists that don't love to toggle too much with gear and desire a plug-and-play solution.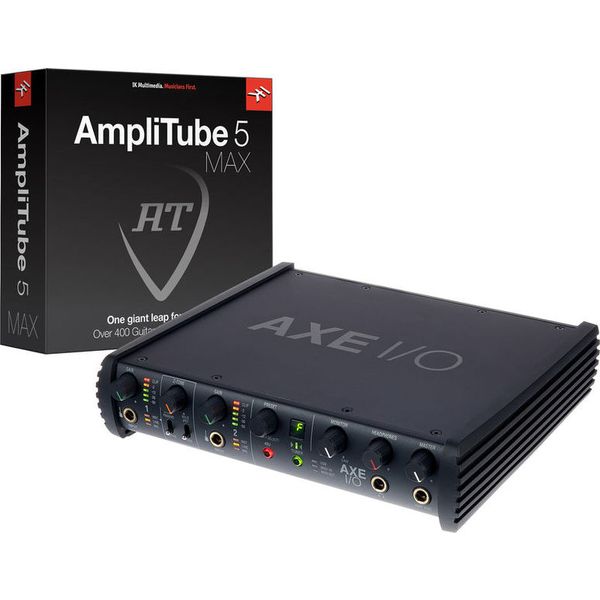 Overall Verdict
Amplitube is a very high-level software platform. It is tailored to guitar players, relatively easy to use, and works better both live and in our home studio. It is perfect to study while traveling, and it is also available for phones and tablets.
In my opinion is the perfect tool for the guitar player that wants an all-in-one solution: amps, effects, a platform to learn, and a software that could eventually works during a live show on a laptop. 
A very nice product. 
It's all for today folks, see you in the next article. 
Ignazio
My name is Ignazio Di Salvo, well, Iggy for all my friends as my name is difficult to pronounce for non Italian speakers.
I am an Italian Guitarist, Singer, Composer, and Music Educator living in Belgium.  
I am passionate about music production and writing, I publish two articles every new week about music and music production-related topics. 
Note about the links: many of the links in this article are affiliate links. It means that if you will buy something after you click on one of them, I will earn a small commission. Nothing will ever change for you, and you won't be affected in any way.