Top 5 Delay pedals Reviews
Who does not love delay? It is an effect I adore, and I can't consider playing a guitar solo without that "wet" sound effect on every note.
A good delay gives depth, thickness, and an overall melodic sense to every guitar solo. Moreover, it adds more space to clean guitar parts like arpeggios, single notes, and double stops. It can also be used creatively: a good example of a guitarist that is very famous for using the delay effect is without doubts The Edge, guitarist of the band U2.
I have to admit that I spent quite some time on songs like "Pride" or "When the streets have no name". Delay lines are an important part of U2's sound and they would never sound the same without this trademark and personal approach to guitar arrangements.
But what are the best alternatives to have a convincing delay sound nowadays?
In this article, I will review the Top 5 Delay pedals available on the market at the moment, 
and I will help you to choose among a wide range of options.
So, let's start!
Top 5 Delay pedals Review
Average price: $449.00
Links to buy: 
Pro#1: Versatile
Pro#2: Boutique-level sounds
Pro#3: Easy and intuitive
Pro#4: It offers a wide range of options
Con#1: Pricey
Con#2: It takes space on the pedalboard
The timeline is probably the most popular and high-level delay pedal on the market nowadays.
With its 12 dedicated delay time machines, its 200 available presets, and dedicated hardware controls for precise tweaking, it will offer an incredible range of opportunities to every user. The precise tap-tempo function will also give the musician the possibility to get in real-time with the song bpm, to be always precise regarding of solos and guitar parts.
The time machine is definitely more than just a delay, it is a creative machine, made to explore soundscapes, noises, and ambient. It will add colors to the music, and it will be an inspirational tool for songwriting and arrangements.
With the 30 seconds integrated loop, it also can be used during live performances and masterclasses, and it is another tool to count on for the professional musician. 
The Timeline is the top-level machine for any use. The only downside is that we of course pay for these possibilities, and so the Timeline comes out as pretty pricey. Furthermore, it will occupy space on our pedalboard.
If you are keen on having a boutique delay but you want to cut the cost in one half, I advise you to try the Strymon Brigadier: way fewer functions but half of the cost and again top-level sounds.
Average price: $299.00
Links to buy:
Eventide Time factor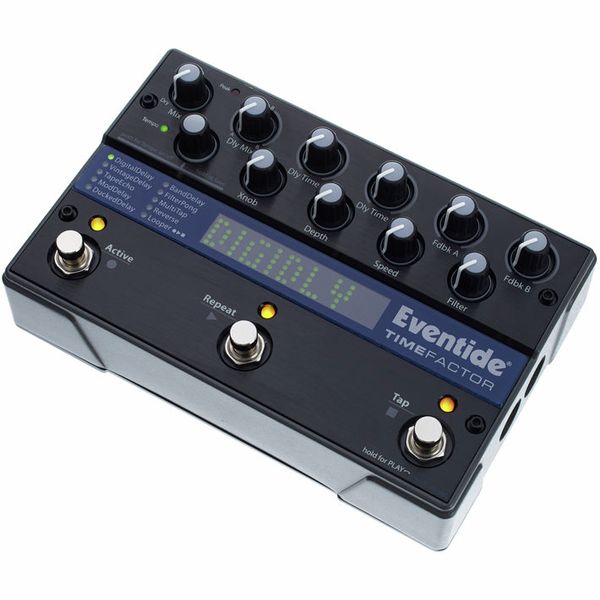 Average price: $449.95
Links to buy
Pro#1: High-level sounds, it's like having an eventide rack in a pedal
Pro#2: can serve different uses
Con#1: Again, the price
Con#2: takes some time to learn how to use it, but it is definitely not complicated
The TimeFactor is another delay pedal that I owned for quite some time and it left me speechless at every use.
Loaded with the 10 most famous Eventide delays, it also offers midi access and tap tempo functions as well external switches for expression pedals.
The software can also be upgraded via a USB port, and it is a true bypass.
The concept behind the TimeFactor is having two independent delay lines that can be used simultaneously and as a consequence, they can be treated separately: we can select different waveforms, make the repetitions darker or brighter, we can emulate analog or tape delays and so much more. Everything can be saved in different presets and, cherish on the top, we can control all via MIDI. Every delay line can also be treated in mono or stereo. 
Here's a list of the type of delays we will find on the TimeFactor:
Digital Delay
Vintage Delay
TapeEcho
ModDelay
DuckedDelay
BandDelay
FilterPong
MultiTap Delay
Reverse Delay
The TimeFactor also includes a 12 seconds looper.
TC Electronic Flashback Triple Delay Pedal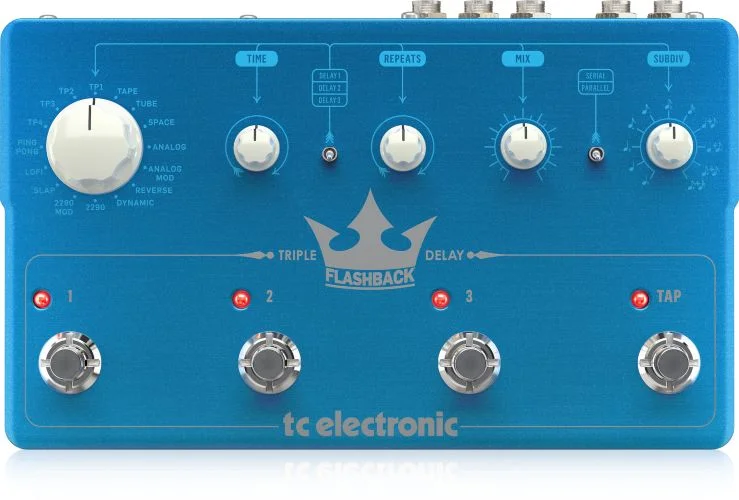 Average price: $279.00
Links to buy:
Pro#1: Analogic look and easy tweaking
Pro#2: Accessible price
Pro#3: Midi access
Pro#4: Undiscussed Tc Electronics Quality
Cons: For me nothing in particular, except maybe the fact that like its competitors takes some space on the pedal board, but, are we really so choosy? 
This delay pedal is the perfect combination of analogic look, easy functioning, and tone possibilities.
It's a true bypass pedal, with MIDI access and expression pedal inputs available. There's also a Kill-Dry option inside that helps to remove the dry signal from the output so that it can be used easily with the four-cable method on an effects loop.
Easy and intuitive to use, the 3 delays can be in serial or parallel mode, and each engine can be independently configured to obtain different nuances and sound types. 
We will have instant and easy access to all our delay swells, reverse delays, analog and type repetitions, and much more. What is amazing about this pedal is a certain level of analogic circuitry, so that our transparent sound is much more preserved in favor of the pure sound quality. We also have in total 11 types of subdivisions, which guarantees us a lot of choice in therm of available delay rhythms. 
It also offers access to the TonePrint technology and app, so that we can exchange on the internet our presets, and charge new ones wirelessly simply with our phone. 
This pedal is like having 3 different delays in one, and it gives lots of creative possibilities through an easy and accessible interface
Boss RE-202 Space Echo Digital Delay Pedal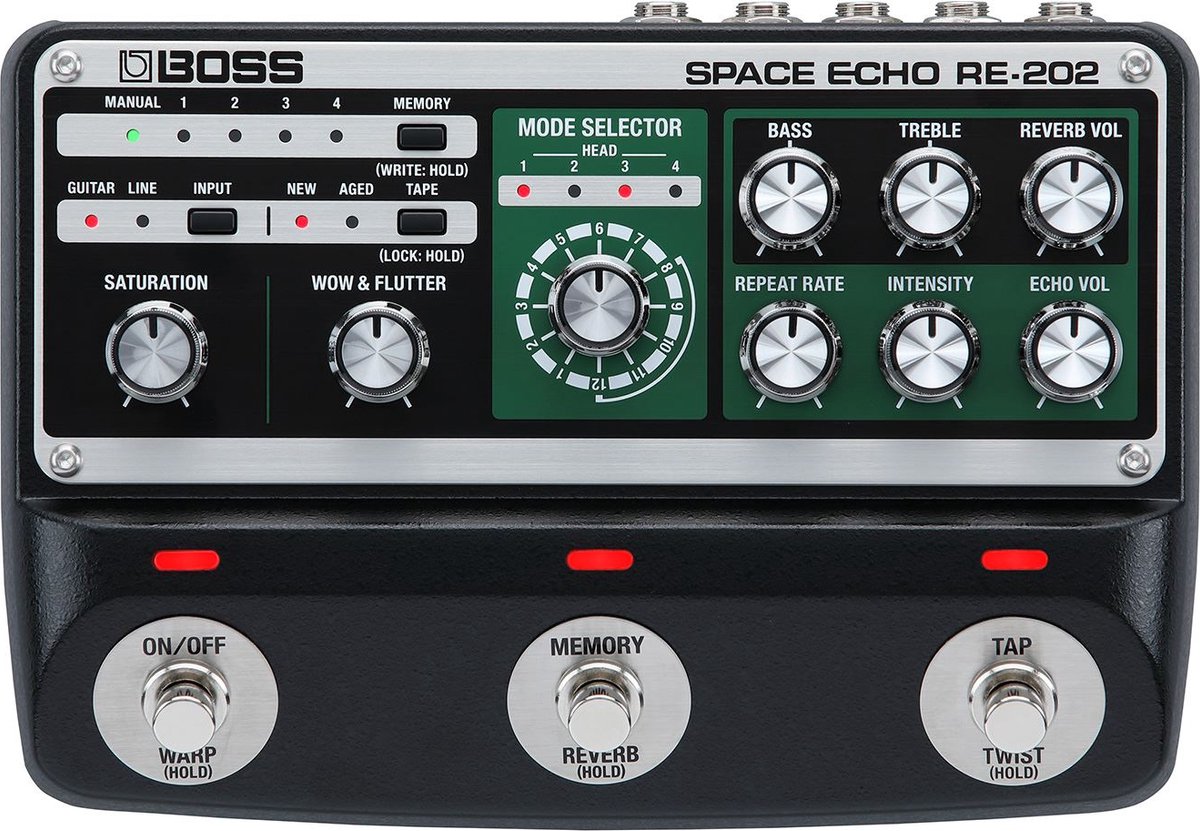 Average price: $419.99
Links to buy
If you want to taste the timeless sound and feel of Roland's RE-201 through a modern-playing pedal, the Space Echo is the product for you.
This pedal has been designed to reproduce all the vintage tape delay sounds and nuances in a modern pedal, that hosts 127 presets and it is enriched with tap tempo and midi functions to expand its abilities.
This is more than a simple delay pedal, as it reproduces as well reverb sounds with additional controls over the effect coloration. We can choose among 11 different modes and thanks to controls like saturation or wow&flutter we can control in detail the equalization and the distortion levels of each delay repetitions. These effects combined give an incredible amount of possibilities and sound designs to every creative mind, ready to experiment with new sounds and ambient.
Meris LVX Modular Delay System Pedal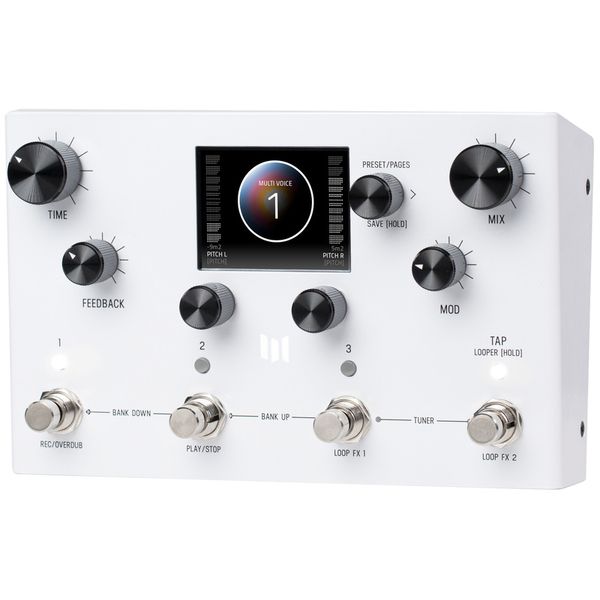 Average price: $599.00
Links to buy:
The LVX is more than a simple delay. It's a project Meris company has been working on for long time and it offers many creative possibilities to transport your guitar sound to a combination of modular sounds that create ambients and unedited alien sounds. Not only that but it can be also used as a simple delay that offers warm voices and enriching space to our guitar sounds.
The LVX offers 2.54 seconds of dual delay with highly configurable delay structures, an integrated 60 seconds looper, and midi access plus, as its competitors, the indispensable tap tempo control.
Its stereo I/O is fortified by a premium analog signal path and pristine 24-bit AD/DA with 32-bit floating-point DSP. You also get 99 preset locations to stock your sounds and assignable expression pedal control for multiple parameters.
Also features a digitally controlled analog mix bus, a stereo input and output with separate jacks for each, and a switchable input/output headroom level for instruments or synthesizers.
Other than a very beautiful and intuitive screen and its 33 banks and 99 preset locations, we can have access to several other parameters and controls through expression pedals.
It's all for today, folks!
Don't forget to add me on Instagram and follow me on my social media!
My name is Ignazio Di Salvo, well, Iggy for all my friends as my name is difficult to pronounce for non Italian speakers.
I am an Italian Guitarist, Singer, Composer, and Music Educator living in Belgium.  
I am passionate about music production and writing, I publish two articles every new week about music and music production-related topics.