4 best audio interfaces for home studio recordings
The audio interface is the element that separates your instrument from your computer. 
The quality of the converters and the overall building quality can determine the final results of your recordings.
Thanks to the evolution of technology, it is nowadays possible to record professionally even in a very small home studio and produce incredible sounding tracks, comfortably sitting in front of our home computer. 
In this scenario, we need the perfect device to fill in our purposes. We can be professional recording musicians or simply amateurs that love to study with headphones and record some ideas from time to time (even with our band).
In both cases, we need to invest in something that could guarantee us the required quality for a good-level product.
In this article, I selected four middle-to-high-level sound cards to obtain the best possible results from our studio recordings.
So, let's discover the 
4 best audio interfaces for home studio recordings
And there we go!
➡️ SEE THE BEST AUDIO INTERFACE OFFERS IF YOU LIVE IN THE USA
➡️ SEE THE BEST AUDIO INTERFACE OFFERS IF YOU LIVE IN THE EU
It also might interest you:
Apogee Symphony Desktop 10×14 USB-C Audio Interface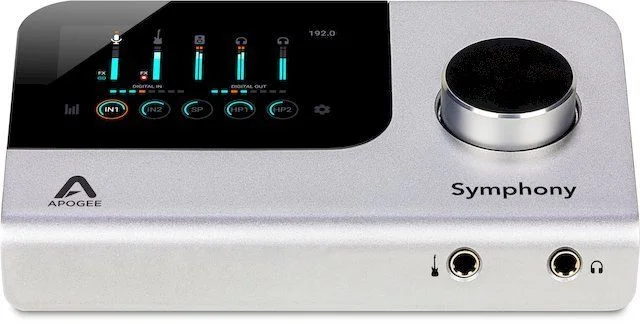 Average price $1,495
Links to buy:
Sweetwater
Thomann
The Symphony Desktop is Apogee's flagship interface. The AD/DA conversion into a desktop interface, together with the preamp emulations and the high-quality sound quality at up to 24-bit/192kHz, is probably one of the best choices for home recordings. The A/D converter stage provides a very clean and sound both in input and output for our mixes and listening sessions.
This audio interface is also made to work in tandem with Logic X Pro to obtain an incredible level of workflow.
2 mic preamps with Advanced Stepped Gain Architecture and up to 75dB of gain ensure clean, low-distortion results.
We can also set up the impedance for every mic-preamp to adapt it to every kind of device. Every Mic Preamp emulation employs analog circuitry and digital processing to give you ultra-authentic modeling for every mic you will be using.
It is also available an Apogee's ECS Channel Strip plug-in, which will give you extra options in therm of compressions, saturations, and EQ possibilities. The ECS Channel Strip plug-in works together with the microphone preamp emulations to make the workflow even easier. 
The Symphony Desktop is also equipped with a Dynamic touchscreen display, which supplies intuitive operations right from your desktop.
With a weight of 1.85 lbs, The Symphony Desktop is also easy to carry around while we are on a trip or on a tour. 
Universal Audio Apollo Twin X DUO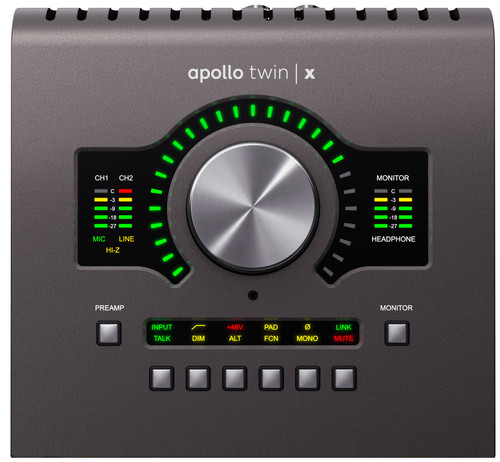 Average price : $999.00
Links to buy:
The Apollo Twin is the most famous and used of Universal Audio's audio interfaces.
Its fortune is due to the accessible costs, the high quality of the sound, the portability, and the large number of plug-ins and preamp emulations included, which avoids holding expensive hardware gear in the studio. 
The Apollo Twin X Duo is a 10-in/6-out Thunderbolt 3 audio interface for Mac or PC, with onboard UAD-2 DUO Core processing. Thanks to the UA's powerful DUO Core processor, the user will experience a studio-quality sound guaranteed by the elite-class AD/DA conversion and the elite-class 24-bit/192kHz converters with overhauled analog circuitry to provide the feel of a real analogic feel for instruments and vocals and a 127dB dynamic range.
The Unison preamp technology included, re-creates the sound of UA's classic 610 tube preamp. We will have access to 
many adjustable parameters, like the impedance, analog gain structure, and in general, we can adjust the preamp behavior to target the preamp sound we have in mind. Thanks to this technology, we will be able to let interact our microphones with the same parameters of a real hardware mic preamp. 
UAD plug-ins sound like analog processors, and they eliminate the need for large racks of gear in the studio.
The Thunderbolt 3 connection will allow the user to record and manage the entire project at latencies of less than 2ms.
Included we also have numerous plug-ins: reverbs, mic and instrument preamps, compressors, EQ, and many more. 
The Apollo Twin can also be fully integrated with the LUNA recording software. 
The Apollo Twin is definitely one of the best choices for our home recording studio, for the quality provided, the large number of sound possibilities, and the accessible price.  
MOTU 8M 24×24 Thunderbolt / USB 2.0 Audio Interface with AVB
Average price : $1,495.00
Links to buy
The MOTU 8M – Thunderbolt and USB Audio Interface is designed for studio recording and live sound reinforcement applications such as mixing a band in a club or music venue.
It features eight balanced combination microphone/line/instrument inputs with individually switchable +48V phantom power and pads. It includes one front panel stereo headphone output with gain control, 2 x 8-channel ADAT optical, and RCA S/PDIF (with sample rate conversion).
Additionally, I/O can be added to the system through AVB networking. It utilizes ESS Sabre32 Ultra converters to provide a dynamic range of 123 dB
The important feature of this audio card is the 48-channel digital mixer can mix physical inputs on the interface, audio channels from your host computer software, which makes this device perfect if we have to record multiple sources at the same time. Thanks to the online mixer, we will be able to manage multiple tracks while mixing them along the way. Perfect if we have to record our band on a small venue for demos, live music videos or simply to record and fix our rehearsals.
This interface features an AVB Ethernet port that adopts the AVB industry networking standard for transporting high-bandwidth, low-latency audio and video over Ethernet. It was developed by the IEEE and enables connection to a second MOTU AVB audio interface. We will be able to split and send the signals to many different other devices of different brands. 
The MOTU 8M will allow us monitoring and recording of up to 128 network audio channels in and 128 network channels out through a Thunderbolt connection to a host computer.
The dedicated software will also allow the user to control all the parameters via desktop or laptop computer and we will be able to create a system of audio interfaces interacting each others. 
Focusrite Clarett+ 8Pre USB-C Audio Interface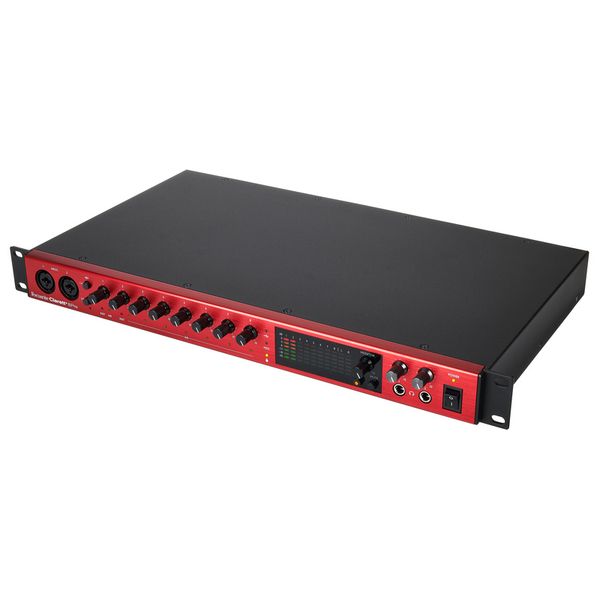 Average Price: $999.99
Links to buy:
Focusrite's Clarett+ 8Pre 18-in/20-out audio interface is a powerful foundation for your studio or mobile recording rig. It sports eight great-sounding Clarett+ microphone preamplifiers, an outstanding dynamic range, and ultra-fast, low-latency performance enabled by USB-C.
The Clarett+ 8Pre's eight newly designed mic preamps deliver a truly impressive dynamic range. Perfect for your studio or mobile recording rig, the Clarett+ 8Pre gives you a wealth of connectivity — including ADAT and MIDI I/O — all in a sleek 1U form factor. With its sonic performance, leading edge round-trip audio latency and ease of use, the Clarett+ 8 Pre is an excellent choice of interface.
The Focusrite Clarett+ 8Pre gives you 18 audio inputs and 20 outputs packed into a trim 1U rackmount chassis. This includes eight analog inputs, ten analog outputs, stereo S/PDIF I/O, and eight channels of ADAT I/O. The ADAT output is perfect for sending audio to an external D/A for line output expansion, while the input can be used to bring in eight additional digital mic preamp channels, such as the Focusrite OctoPre MkII, for maximum flexibility. In addition, two front-panel mic/line/instrument inputs give you quick and easy access — even when you've got your Clarett+ rack mounted. And those hi-Z inputs have copious headroom to handle your guitars and basses with hot passive or active pickups.
Featuring a 6-segment, multichannel LED meter, the Clarett+ 8Pre's monitor panel keeps you informed of analog and digital input levels and main monitor outputs. Monitoring facilities include a level control, as well as dim and mute buttons. Add to that two wide dynamic range front-panel headphone outputs with enough power to deliver healthy levels to high-impedance headphones, and the Clarett+ becomes your go-to device for tracking and mixing.
Your Clarett+ comes with Focusrite Control, a brand-new software mixer that makes short work of configuring your monitoring and routing setups. Simple and intuitive to use, Focusrite Control offers an easy-to-grasp traditional mixer workflow and gives you immediate access to dim, mute, and other internal hardware functions.
With the Clarett+ 8Pre's exceedingly low round-trip audio latency over USB-C, you can record and monitor in real time with your favorite DAW plug-ins. No special processing or DSP is required. Select any plug-in and create your dream recording chain on every single channel. Every Clarett+ ships with the Focusrite Classic Red 2 and Red 3 plug-in suite, which accurately models Focusrite's classic Red range EQ and compression hardware, and the Brainworx bx_console Focusrite SC, which faithfully captures the sound, feel, and style of the original Focusrite ISA 110 Equaliser and ISA 130 Dynamics Modules.
Each channel of this Clarett+ interface is equipped with a dedicated insert that lets you keep your favorite rack equipment plugged in and ready to track through. This flexible insert setup lets you add analog gear to your signal chains as needed, but all Clarett+ interfaces also include the Hitmaker Expansion, a studio-grade software bundle that includes powerful mixing plug-ins and virtual instruments. Plus, you get a three month subscription to Avid Pro Tools Artist and access to Abelton Live Lite. As a registered Clarett+ owner, you'll also eligible to receive regular discounts and exclusive versions of cutting-edge software titles through the Focusrite Plug-in Collective.