Are you searching for an amp modeler to play live with in-ear monitors?
In this article, I will resume for you the best amp modelers for 2023
so you can compare, try and eventually take your choice.
Unfortunately, tube guitar amps are slowly disappearing from live stages. There are lots of reasons behind this phenomenon. 
Tube amps are difficult to carry and fragile. Tubes break quite often if you are not careful. During long tours, it becomes more and more difficult and expensive to bring them around. Especially if you are a band with a not-so-high budget, you need to save on your costs.
Moreover, sound engineers nowadays prefer a clean stage, especially for Pop music, which means that all the instruments go direct to the PA (except for the drums, even if we have incredible V-Drums nowadays that sound almost like the real deal). This avoids lots of troubles: for example, drums crash sound that gets inside the guitar amp mic .
So, which is the solution to this big change? Well, for sure the Impulse Response Technology and the amp simulators. 
Let's see in detail what the market offers for 2023.
➡️ SEE THE BEST AMP MODELERS OFFERS IF YOU LIVE IN THE USA
Neural DSP Quad Cortex
Average price: 1849$
Links to buy:
Pro# 1 Top level sound
Pro#2 Lightweight, easy to carry, amazing touch display
Pro#3 Neural Capture ™ function that allows to profile and replicate any amp or pedal
Con#1 No volume pedal (it can be added as an external one) 
The Quad Cortex is one of the rising stars of nowadays market. 
The company has increased a lot its reputation during the latest years thanks to incredibly sounding plug-ins, sponsored by musicians like Cory Wong, John Petrucci, Tosin Abasi and Plini. 
The Quad Cortex is the pedalboard version of their software, and it has been adopted on stage, among others, by Kiko Loureiro and Dave Mustaine from Megadeath. 
The reason is simple: it does sound perfect. It uses super high-quality components, and it has a very huge collection of effects, amps, and cabinets.
Both amps and cabinet sound magnificent. The effects are spot-on, and you have everything you need for any type of gig and music style
Another important feature of the Quad cortex is that it can profile guitar amplifiers and pedals thanks to the function Neural Capture ™ and replicate every detail of the sound. 
In conclusion, the Quad Cortex is actually a very high-quality product, and thanks to the software updates it will evolve even more during the next years. 
Line 6 Helix
Average price : 1699$ 
Links to buy:
Pro#1 Good Sounds
Pro#2 Fair prices
Pro#3 Volume pedal included
Con#1 nothing in particular
The Helix Line is a relatable choice in therm of guitar amp simulation. 
Line 6 has been the first ever company to introduce this technology back in the late '90, and it revolutionized completely the game in the guitar market. 
Throughout the years, the company has been growing up its reputation with very good products, from amps to guitar effects and guitars like the Variax. 
The Helix is nowadays the top-notch line 6 product, and If you are interested, I fully reviewed it here
The Helix is also my personal choice for live gigs. Since I own a Helix, I don't need to bring with me expensive and fragile pedals anymore. Completed by a very useful included volume pedal, the Helix is in my opinion the real game changer for every guitar player that wants a practical all-in-one solution for any type of working situation. 
The amount of amps and cabinet offers me a wide choice for any type of sound. Also, the effects are really a lot, and it gives me any type of crazy delays, reverbs, guitar synths, ring modulators etc.
It does sound excellent both direct in a PA or in front of a tube amp. 
I personally use this pedalboard in combination with my Victory V40 tube amp, and the result makes me cry every time. I don't even need to use overdrives and distortions anymore, the simulations are incredibly close to the real deal and nobody would hear any difference. 
Personally speaking, the Helix is the solution I feel like to recommend: it is complete, it does sound amazing, and the constant software updates make the Helix a relatable long-therm investment for its fair cost. 
What I like about Line6 (yes, I really like this company, I bought my first Pod 2.0 back in 2002) is that now they differentiated the offer a lot by making different variations of the Helix, in different sizes, prices and functionalities.
For what I heard, they always sound amazing. 
CHECK HERE ALL THE LINE6 HELIX AND POD VARIATIONS IF YOU LIVE IN THE EU
CHECK HERE ALL THE LINE6 HELIX AND POD VARIATIONS IF YOU LIVE IN THE USA
Average price (Power Rack version): 2350$
Links to buy:
Pro#1 Game changer product, constantly updated. Good long therm professional investment
Pro#2 High quality sounds and very good client assistance
Pro#3 Profile your tube amplifiers easily
Con#1 effects could sound a bit better, but they are constantly updated
Pro#1 High Quality Sounds
Pro#2 Profile any amps or chain effect
Con#1 Effect Section could sound a bit better 
After a decade on the market, this amp emulator probably does not need an introduction anymore. 
Since the introduction of the Kemper, the German company evolved with many other different products, like the Kemper stage (pedalboard format) to help guitarists that needed a more portable Kemper version for flying gigs.
The impact of the Kemper has been huge in the music market, as for the first time you could capture the profile and the sound of your favorite amps and bring them on stage altogether in a single digital machine that can be hosted on a rack unit. It's a smart solution to avoid carrying expensive and fragile tube amps, but still have the flexibility and the tone of tubes. 
Although probably the effect section is the one I prefer less compared to the Line6 or the Quad Cortex, the Kemper is very strong in amps profiling and more in general in amps guitar tones reproduction. You can easily profile any guitar amps and chain effect and everything will be easily reproduced by this magic machine. 
Despite the time in the market, Kemper still IS the solution for many working gigs, which is required flexibility and a great tone. Many famous bands use the Kemper during live gigs nowadays, and this proves the high quality of this revolutionary product. 
The Kemper is produced in different versions, you can all check them HERE.
Really nothing more to say about this machine, it is a guarantee of quality and reliability for the most exigent working guitarists. 
Boss GT-1000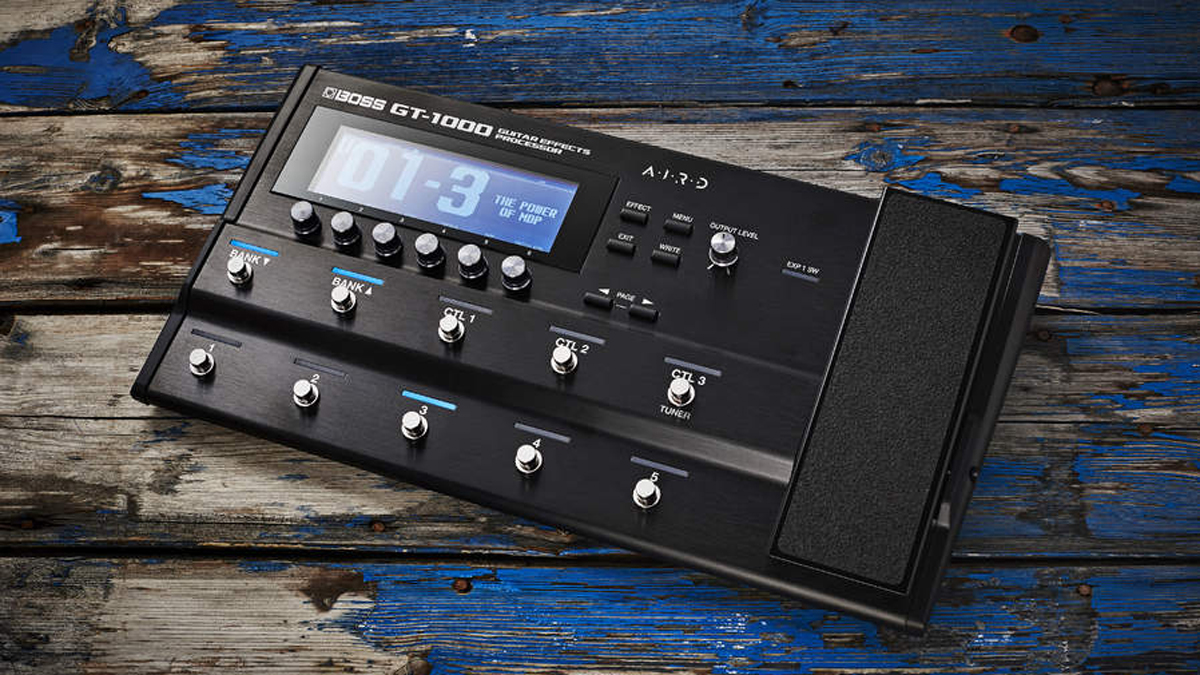 BOSS is without any doubt one of the leaders companies for effect pedals. 
The GT-1000 is proposed as the flagship model for the multi effect pedalboards market, and definitely it is a game changer in the sector. Thanks to the 32-bit/96kHz processing, this unit is so powerful and both the amps section and effects are at the top of the quality for its price range.
The Roland's acclaimed Tube Logic technology, Augmented Impulse Response Dynamics (AIRD) technology contribute to give a real feel to all the guitar amps models. 
The possibilities for effects routing are also various and rich, allowing guitarists (but also bass players) to have access to different setups and sounds with a simple click. 
Also, the interface is very simple and easy to understand, and thanks to the USB ports, we can easily control the pedal board from our computer to better work on the signal routing and the effects chain. 
The GT-1000 can also be used as a high-quality sound card for your music recordings. 
Nothing bad to say about this very well-made product, BOSS never misses the opportunity to give its best to professional and not professional guitarists who want great quality for a fair price. 
It's all for today, folks! 🙂
Drop me an email if you have more doubts: ignaziodisalvo@gmail.com
Follow me on Instagram