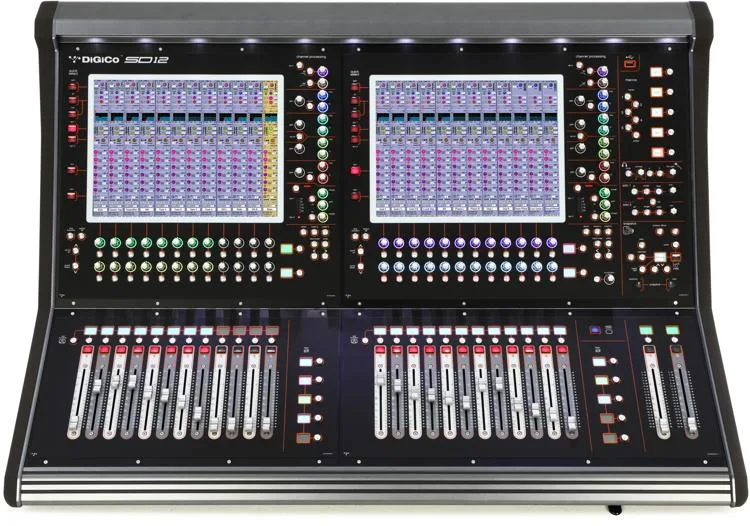 Digital Mixers represent today the top of the music technology, both for studio recordings and live performances.
So in this article, I will review 3 best Live/Studio digital mixers to buy in 2022
If you have in mind to update your recording studio, or you want to raise the game in therm of the service you offer to your clients during live gigs, this is the right article for you!
3 best digital mixers to buy in 2023
Avid S6L System with S6L-24D Control Surface and E6L-144 Engine
Price: $102,995
Pros:
State-of-the-art mixer console
Incredibly powerful
Easy access to hundreds of functions and plug-ins
Integration with Protools.
Cons:
Pricey
The Avid VENUE | S6L live mixing system is probably one of the best live consoles out there.
It provides you with high processing power to support system scalability, Pro Tools integration, and hundreds of onboard plug-ins.
This extensive mixing control will give you all the power and flexibility that nowadays's live mixing demands, all integrated into a very robust E6L-144 engine and Avid's battle-tested VENUE software.
Equipped with multitouch screens, three banks of eight faders, and two banks of 32 knobs, the VENUE | S6L control surface allows you to access all the functions you will need in a matter of instants.
In short:
Master multitouch screen
Master Live central module
Two-Channel Touch modules
Three Channel Fader modules with eight faders each (total of 24)
Two-Channel Knob modules with 32 knobs each (total of 64)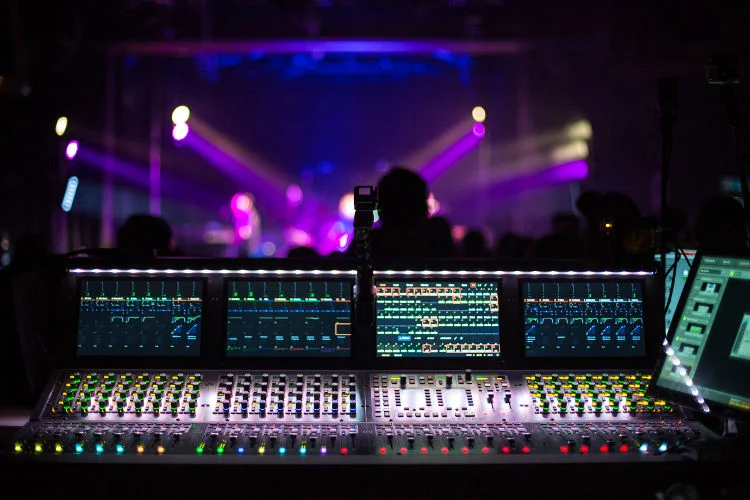 The Stage 64 rack provides you with 64 microphone preamps that deliver great sound with clarity, warmth, and presence and 32 outputs for monitor mixes, aux-fed subs, and zone mixing, giving you the output flexibility to send audio virtually anywhere you need to.
64 great-sounding microphone preamps
32 ultra-flexible outputs
Send audio virtually anywhere you need to
It is also equipped with the VENUE Software, which can be easily integrated with Protools.
The VENUE software automatically creates a Pro Tools session from your current VENUE show file, complete with all track names and patching, giving you simultaneous control over your live mixing and recording rigs.
Straightforward tabbed-page architecture
Navigate pages quickly and easily
Highly visible, easy-to-see interface
Seamless integration with Pro Tools
The Avid VENUE | S6L live mixing system is most certainly the high-level choice for the most professional, high-profile gigs.
More information HERE
DiGiCo SD12 96 Digital Mixing Console
Price: $50,002.50
Pros:
Solid built
Complete
Portability
Integration with all the most important software
Cons:
Fewer features than the Avid S6L (but it costs one half of it)
The DiGiCo SD12 96 is a compact size mixer with big features.
It is equipped with the latest-generation super FPGA technology and Core 2 software with a wealth of power.
SD12 96's hood. Dual 15-inch touchscreens and 26 touch-sensitive, motorized faders give you tactile control and instant visual feedback. The SD12 96 includes eight mic/line inputs, eight line outputs, eight mono AES/EBU, and dual MADI I/O, along with dual DMI option card slots for added expandability.
This mixer is composed by 96-inputs which deliver 48kHz/96kHz digital audio for world-class sound. In addiction, it is equipped with digital effects processing for both inputs and outputs.
Each channel also comprehends channel delay, highpass and lowpass filters, parametric EQ, and dynamics processing.
You also get graphic EQs, multiband compression, and tube-style saturation.
Features:
96 input channels with 8 mic/line inputs and 8 analog outputs
8 mono AEA/EBU inputs/outputs and dual MADI I/O
48 auxiliary/subgroup buses
LR/CR master bus with 12 x 8 full processing matrix
Dual DMI (DiGiCo Multichannel Interface) option card slots for expanding your I/O (modules sold separately)
Comprehensive digital effects processing on all inputs and outputs
26 touch-sensitive, motorized faders provide you with hands-on control
24-bit/96kHz native operation for world-class sound (can be set to 24-bit/48kHz)
Dual touchscreens provide instantaneous feedback and control
Integrated recording interface
Soundcraft Vi3000 96-channel Digital Mixer
Price: $48,307.19
Pro:
very good price for the functions it offers
Easy to use
Complete with all the functions needed
Cons: Nothing in particular
Let's finish this review by talking about the Digico SD12 96. 
Among the 3 best studio digital mixers to buy in 2022, this is probably the one that offers the highest quality for a price that is half the highest range product in the same category. 
The SD12 96 offers great accessibility in its controllers, and any setting becomes immediate and easy, without losing yourself in hundreds of pages and parameters.
The Vi3000 features 96 input channels with 24 mono/stereo mix buses and LRC master buses.
Features:
Tactile control surface with 36 faders and 4 touchscreens
96 input channels with 24 mono/stereo mix buses and LRC master buses
SpiderCore integrated DSP engine sounds amazing
Streamlined Vistonics II knobs-on-glass interface is a breeze to navigate
Faderglow color coding illuminates fader slots according to their function
World-class Lexicon effects, including reverb, delay, and pitch shifting
Modeled BSS Audio DPR-901II dynamic EQ supplies powerful sound shaping
Built-in Dante interface gives you instant connectivity to other Dante-enabled devices
MADI interface accommodates record feeds or Soundcraft's Realtime Rack Plug-in engine
2 expansion bays for Stagebox connection or option card installation
Onboard vMIX automatic microphone mixing is great for conference or theatrical presentations
Ideal for live touring, install, and corporate AV applications