Website: https://www.kemper-amps.com/stage
Average Price: 1613€
Overall Rank: 95 out of 100
Links to buy: 
Kemper Stage Profiler Review
The Kemper Stage Profiler is the all-in-one pedalboard version of the more famous Kemper Profiler. 
It contains all the most important features and sound of the Kemper, but in a small and easy-to-carry pedalboard. 
The Stage profiler is the long time waiting for floorboard for all the touring musicians that want to have a high range of sounds and high-performance effects without carrying around expensive tube amps. 
The Pros & Cons
Pros:
PRO #1 All the advantages of the Kemper in a small format, easy to carry around
PRO #2 High-Quality Effects, Amp simulations, you can charge your custom IRs
PRO #3 High-quality sound, you can use it as a Preamp or a multi-effects in your pedalboard
PRO #4 Intuitive and easy to program
PRO #5 Solid and robust build
Cons:
CON #1 No Expression pedal, you have to have an external one
CON #2 No integrated power amp
CON #3 Small monitor
CON #4 No mobile app 
Inside the Kemper Floor
I am a happy Kemper user for many years. The first time I tried this machine I have been falling in love with the tone clarity, the fidelity of the dynamic response, and the overall sound. I have had the opportunity to try it both with the power amp version and with a tube power amp. 
In both cases, the Kemper did its job incredibly well, and I loved how high quality the sound was during the gigs. 
My only issue was with bringing with me the Kemper + a midi pedalboard + a tube power amp. I just was wondering why it was not possible to have a pedalboard version of the Kemper, so to have everything at your feet without linking together midi instruments and bringing with me more cables and stuff.
The answer arrived a few time ago with the Kemper Floor, specifically designed to occupy as little space as possible while keeping the same quality as its brother in rack-mounted version. 
The Kemper Floor is a complete unit: it will allow both to capture and profile your best amps, charge ready to use amps and IRs, built your favorite high-quality effects chain, and send everything into the PA or your favorite active monitors.
The Kemper Floor contains also an intuitive looper for live use, with 30 seconds of high-quality audio in normal speed mode. 
The Kemper Floor Features
At first sight, the Kemper floor is practically identical to the Kemper Rack. You have all the wheels for volume, gain, and amp EQ available in front of you like a real tube amp. You can easily scroll through the different patches and scenes only by tapping a button. Likewise, you can also easily select the tuner (very useful during a live gig), the look, and most importantly the tap tempo. Personally, I am a maniac of the tap tempo delay and I could not live without it. 
What I like about this workstation is that everything is already in front of you. You don't have to scroll infinitely among 10000 programs, algorithms, and features. Everything is there, intuitive, clear. The learning curve is low, and I like how it can be almost directly plugged to be played instantly. 
You of course have to tweak a little before building your sound, but the time spent will be very well worth it. 
Additionally, you can add external expression pedals to control parameters like volume, wah, whammy, modulations, and many others. 
All will be at your feet, all available in a click. So I can basically go gigging around with my best-profiled studio amps boxed in a single unit, 2 cables for connections, and my in-ear, and I am ready for a tour. Nothing more. How cool is this?
The only con in a live is that maybe the display is a little bit difficult to read, but personally I don't consider this a real con, as you will be too busy to play to have the time to read around. You will know already your sounds during a concert, why you should bother tweaking around on nobs in front of an audience?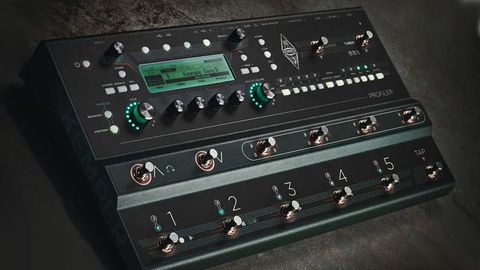 How does it sound?
The answer is as usual very well. If you are already used to the quality of the Kemper, you won't find so many differences with the floor version. The sounds are always top class, realistic, and full of headroom. 
The only difference with a real tube amp I think is in how your guitar is perceived in a live mix. Indeed with almost any simulator, your guitar won't be as much realistic presence in a band in which the drummer pushes hard and there are voices and many other instruments. I guess this is the little price you have to pay with any simulator, but on the other hand, the portability and the easy use largely compensate for this lack of realistic tone. 
Despite that, the Kemper DOES sound realistic, with great dynamic response and great flexibility for any use. 
I think this is the perfect machine for the always on stage session man that needs to have maximum flexibility and low risks while touring around. 
The case also looks very classy, and robust, great to see in a live act. 
The lights also help to control the parameters in real-time both on your darkest and sunniest gig. Very practical. 
Business Inquiries, Collaborations, Studio and Live Sessions:
My Website and my courses:
https://www.ignaziodisalvo.com