Why the Ibanez AZ became the guitar that mostly expresses my ideas and my feelings.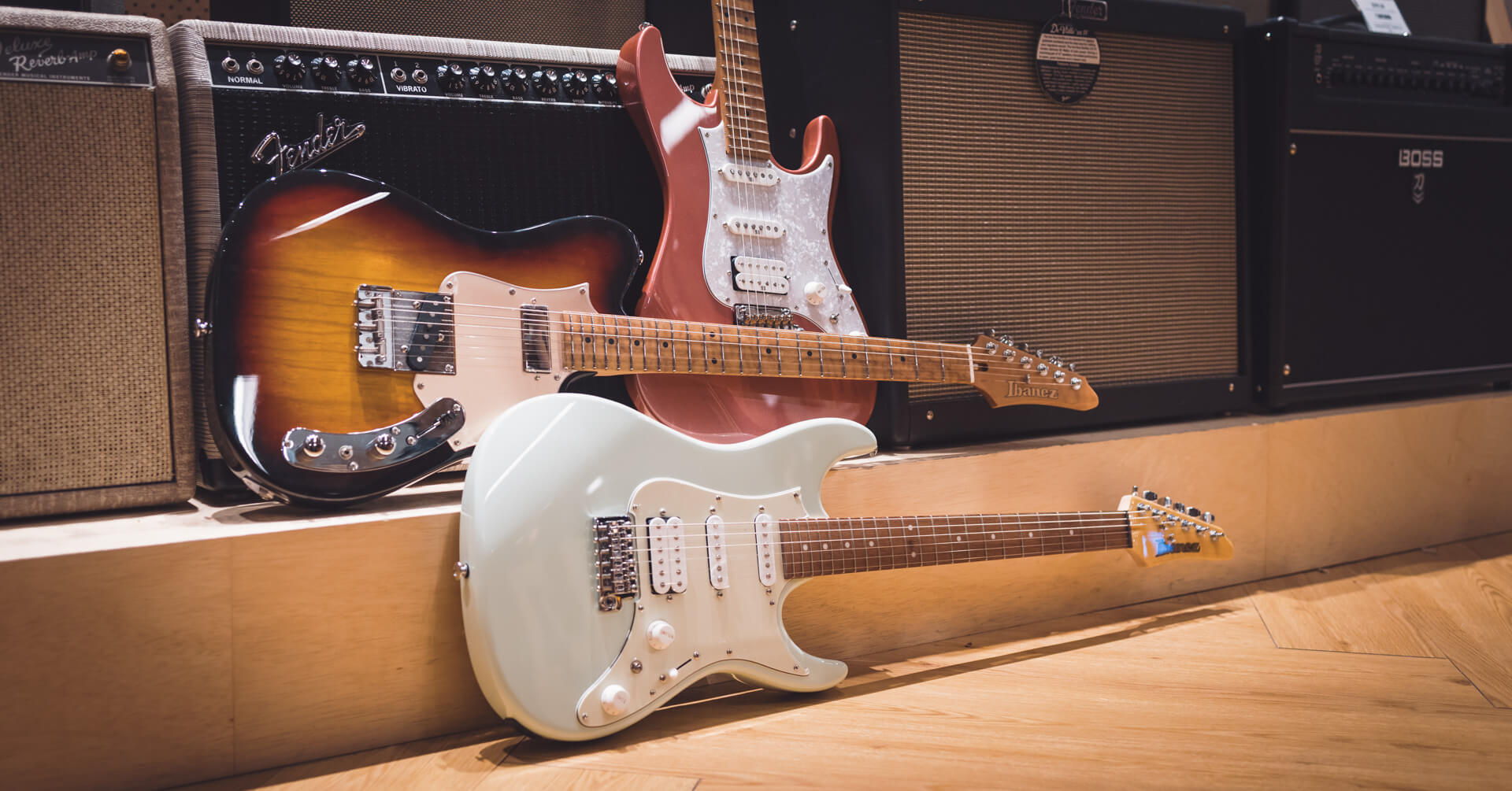 Ibanez AZ Review
In 2018, I have been so honored to receive one of the first prototypes of the Ibanez AZ as a beta tester for the product.
It was an incredible honor for me to be part of the project together with many other incredible guitarists from all over the world like Andy Timmons, Oz Noy, Tom Quayle, and Marco Sfogli. 
I received one of the first prototypes of the series, and it now became my favorite baby, both for gigs and for the studio.
We became inseparable as for the first time I had in my hands the perfect balance between playability, vintage sounds, modern features, and overall versatility. The AZ still is, after many years, the guitar that mostly represents now my music direction, and I am happy it came into my life. But why my sentiments are so strong and what could these guitar series do for you?
In this article, we are going to make a review of this amazing guitar and I will tell you why this one became my main instrument over the years. 
Ibanez AZ Review: everything you should know about the Ibanez AZ
Ibanez AZ Review
Average Price:
$1,999.99 for the Prestige version
$1,399.99 for the Premium version
Overall Rank: 95 out of 100
Product Overview
The Ibanez AZ has been introduced in 2018 in two different lines: the Prestige line, made in Japan, and the Premium, made line, in Indonesia.
The AZ is probably one of the most successful Ibanez Guitar models of this decade to date.
In this review, I will explain to you why you should look after it and why it's a great guitar (yes, I am not neutral right now, I know  🙂 ).
This will be a review from the eyes of a musician that uses this guitar professionally every day and that is truly satisfied with the product.
Here you can find the specifics for the Prestige models 24 frets that I took directly from the Ibanez website:
SPECIFICS
neck type AZ Oval C S-TECH WOOD: Roasted Maple neck
top/back/body: Alder body
fretboard: S-TECH WOOD Roasted Maple Black dot inlay
fret: Jumbo Stainless Steel frets
bridge: Gotoh® T1802 tremolo bridge
neck pickup: Seymour Duncan® Hyperion™ (H) neck pickup Passive/Alnico
bridge pickup: Seymour Duncan® Hyperion™ (H) bridge pickup Passive/Alnico
The Pros & Cons
Pros:
PRO #1 Versatile guitar, it will let you play any music style out there.
PRO #2 High-Quality built, even in the Premium versions
PRO #3 Easy to set up (strings change, truss road, bridge accesses)
PRO #4 Easy to play, fast and accurate neck
Cons:
CON:  Not so many colors to choose from every year (but Ibanez is working on it)
Is the Ibanez AZ a Guitar to rule them all?
I received my first Ibanez Prestige directly from Hiroky Oda in 2018. I have been honored to take part in the development of the project among some of the best guitar players in the world. For me, it was a dream becoming true.
I was together with my childhood heroes, and I was holding their same guitar. 
When I first got my hands on this instrument, I have been completely kidnapped by the quality, the sound, and the tonal voice coming out from that simple "piece of wood".
Since then, this guitar became a huge part of my sound, practically my main guitar so far.
I recorded my entire album "Trust" only with this one guitar and I have in program to use it during my next productions. Not counting the works as a session player for many other artists.
Let me explain why I think that the Ibanez AZ can be a very good choice for the many that, like me, want an instrument with character but are versatile at the same time.
The woods and the overall construction
Differently from the RG line, for example, the AZ models are made to have that vintage character that the RG misses a little. The RG lines are made literally to run, and if from one side that super thin and precise neck is a killer for sculpting every note and making them sound clean as razors, on the other side I personally miss that "old bluesy feel" that I perfectly have under my findings with the AZ.
The AZ takes the best of both worlds, using woods that give you the impression of being "living" under your fingers, while at the same time you can be a modern shredder-sounding guitarist without missing clarity and agility in your fast lines. 
The oval shape roasted neck becomes an important part of the sound for this purpose, and it lets you have the necessary sound and stability to sound clean enough to play both modern and vintage-sounding solos and rhythms. 
The alder body gives the instrument the correct range of frequencies, without sounding too dark or too high-frequency. I personally think this is the perfect balance for a super S-type guitar in therm of tonal range.
The woods and the overall construction are maybe a little better in the prestige version than in the premium version, but honestly, the first time I tried the premium version, I was not able at all to make a distinction in therm of sound and playability if playing them while blinded. The premium version can really also be a big money saver at first if you don't want to go directly to the prestige, and you will eventually make the upgrades in the future. 
The electronics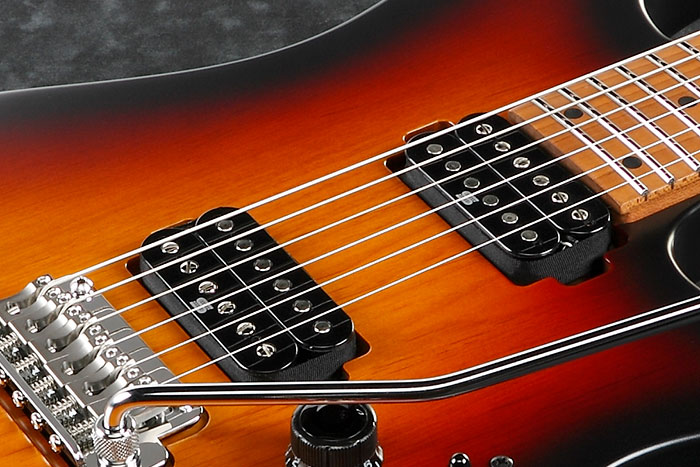 The pickup combinations are a strong point in the Ibanez AZ, and the particular wiring will help you to achieve the classic T and S sounds, from Mark Knopfler to David Gilmour, passing through Andy Timmons, Guthrie Govan, and Wayne Krantz. 
I personally use the 22 frets version of this guitar, and I have been able to achieve tones for Blues, Rock, Metal, and Jazz.
During my last Jazz gig, it was amazing how I could achieve easily through the split-coil switch, the sound of a classic tone-closed jazz box guitar only with a simple variation in the tones and the switched neck pickup position. The sound reminded me a lot of the one from Ed Bickert, one of my Jazz Guitar Heroes. 
The Seymour Duncan Hyperion pickups are a good choice for this guitar.
They have the right combination of tonal character, and clarity of sound, and they are the right meeting between the classic and vintage worlds. 
I might probably suggest you an additional upgrade in these pickups if you need something more personal.
I guess these pickups are created to have a neutral range and tonal character.
If you go to more high-ranged Seymour Duncan Pickups you will find for sure a better sound.
I have to say that this guitar sounds great already as it is, tho. 
Luminlay side dot inlays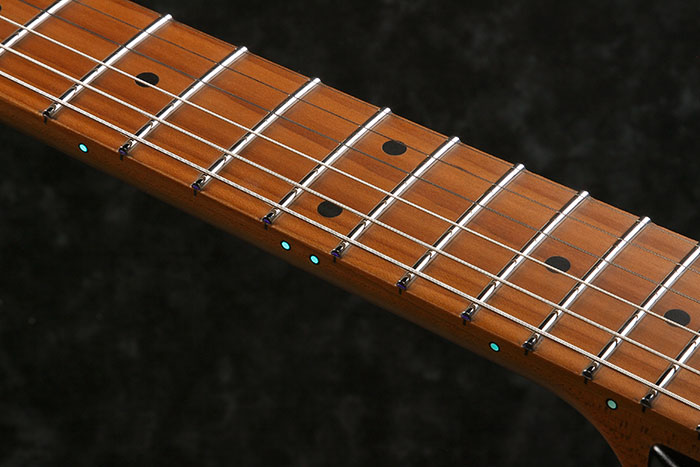 This feature will also allow you to see your neck during the darkest gig, and indeed I found this an advantage. 
I like to be able to see where my hands go while the stage lights are not flashing. It gives me a feeling of more security.
Gotoh® Magnum Lock machine heads w/H.A.P.(Height
Adjustable Post) and Gotoh bridge
This is probably the feature I like the most. 
The Gotoh bridge allows me the same stability and possibilities of a Floyd Rose, but without its overcomplicated mechanisms of it. 
Floyd rose bridges can be great in many cases, but for sure it takes a ton to be set up, especially when you have to change your strings, and you have to do it between a gig and another one. 
The Gotoh bridge will allow you to have the same (or almost) freedom, fun adventures, and tuning stability of a Floyd Rose Bridge but without its complications. You will have to put the strings in, set them on the blocking machine heads, and in 2 minutes the string is ready. Very easy and I love it. 
How does the AZ Sound?
Well, very good. 
First, the AZ is a very ergonomic guitar, you feel it easily as a part of you while you are playing, and it is lightweight enough to stay with you for a long-standing up 4 hours gig without your back starting to hurt.
The sound is very rich and warm, and I find it very easy to play once it is set up properly. The neck is in line with the Ibanez tradition: easy to play, comfortable, and fast.
The wide tonal range and the different pickup combinations let me play from Steve Ray Vaughan and John Mayer to '80 heavy metal rhythm guitars and solos in a matter of a second. 
It is always inspiring to play with an instrument that is able to follow your ideas entirely, and I feel that the AZ is perfect for this purpose. 
And you? What do you think of Ibanez AZ? Leave a comment below!
It's all for today, folks! See you in the next article!
Ignazio
Links to buy the Ibanez AZ
My name is Ignazio Di Salvo, well, Iggy for all my friends as my name is difficult to pronounce for non Italian speakers.
I am an Italian Guitarist, Singer, Composer, and Music Educator living in Belgium.  
I am passionate about music production and writing, I publish two articles every new week about music and music production-related topics. 
Note about the links: many of the links in this article are affiliate links. It means that if you will buy something after you click on one of them, I will earn a small commission. Nothing will ever change for you, and you won't be affected in any way.